Black Friday 2019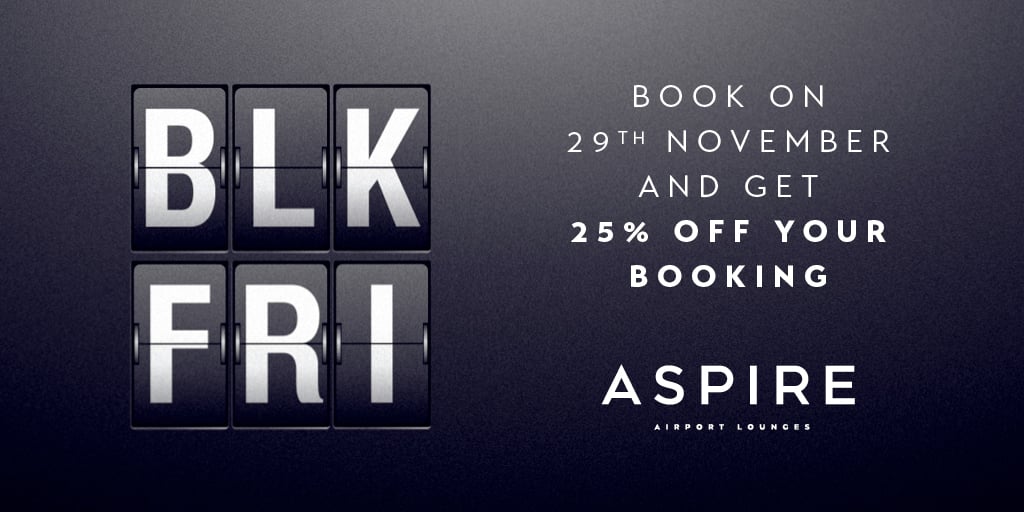 This Black Friday we have an offer you can't refuse!
We're offering you a whopping 25% off when you book directly on www.ExecutiveLounges.com so that you can escape the hustle and bustle of the busy airport terminal and relax in style before your flight.
Not only will your booking guarantee a comfortable seat and complimentary food and drink, but we also include guaranteed delay cover with all bookings made via ExecutiveLounges.com. This means you can stay in the lounge until your flight departs, or the lounge closes.
You can find more information about our airport lounges here.
Whether you use this offer to book your next business trip or your summer holiday, don't miss out – this offer ends at midnight on Friday 29th November!
Click Here to apply your Black Friday discount
Why book an airport lounge ahead of your next trip?
Booking an Aspire Airport Lounge is a great way to start your trip, as all of our lounges offer:
Free Wi-Fi
Complimentary Food & Drinks
Business facilities 
Charging facilities 
A guaranteed seat and quiet space to relax ahead of your flight 
We offer seasonal menus in all of our Aspire Airport Lounges. To view the menu ahead of your next trip to an Aspire Lounge, please visit www.ExecutiveLounges.com, see 'Lounges' and select the Airport Lounge you're visiting. Once on your airport lounge page, please scroll down to the 'Menu' icon and click this to see the full food and drinks menu for this lounge. 
T&Cs
The Black Friday 25% off offer cannot be used in conjunction with any other offers
Vouchers, Annual memberships, and Lounge extras are not included in the discount offer. 
Discount is only applicable to Aspire Lounge UK & Ireland airport lounges bookings, including: