Food and Drink at Aspire Lounges
When it comes to food and drink, our commitment is to keep it wholesome, keep it tasty and keep it simple.
---
Looking for the Food and Drink Menu of a Specific Lounge?
If you would like to look at the Aspire Lounge Menu in a specific lounge to see what foodie treats will be available during your lounge visit, please follow these instructions:
Click on mini menu icon in the top left of your screen

Select your lounge from the list

Then select 'Food and Drink Menu' towards the bottom of the lounge page.
We know that the food and drink that is available in our lounges is one of the most important things to our guests. That's why we constantly review our menu, listen to what our guests tell us and offer delicious snacks, treats, light bites and premium drinks. What's more, the vast majority of the food and drink is complementary in our lounges ensuring that whatever the reason for your journey, there is no need to board your aircraft feeling hungry.
reason for your journey, there is no need to board your aircraft feeling hungry.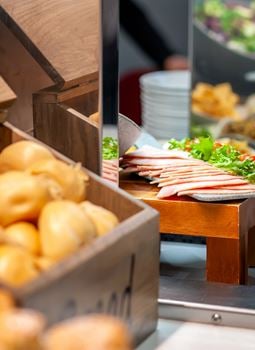 KEEPING IT WHOLESOME
We regularly review our menu and work with some great suppliers to ensure that th entire food offering in each of our Aspire lounges is fresh, on-trend and satisfying.
Fresh fruit is delivered to our lounges on a regular basis, meaning that however busy you are and wherever in the world you are flying to, you can always grab one (or two or three) of your five-a-day!
We like to bring our guests premium and exclusive brands that cannot be found anywhere else in the airport. Selected lounges offer Spey Whisky, produced by one of Scotland's oldest distilling families, adding a touch of something special to any visit.
---
KEEPING IT TASTY
Aside from our own menu reviews we listen to what our guests tell us. In fact, some of our most popular food menu items have been a suggestion from our guests.
The addition of hand-cooked crisps adds some decadence to the nation's favourite snack and a greater range of flavoured yoghurts have come directly from the feedback of our guests.
We have also made improvements to menu favourites such as our signature Aspire Cream Tea, with larger fruit scones, individual servings of clotted cream and a range of fruity jams because we know that not everybody is a fan of strawberry!
We sample each and every item of food and drink that is available in our lounges - it's a tough job but someone has to do it! If we don't like it and we don't believe our guests will, then we don't offer it! Our menu is Aspire Team tried and tested.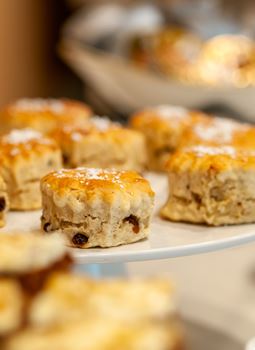 ---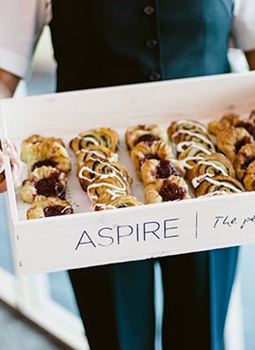 KEEPING IT SIMPLE
Never visited an airport lounge before? If you are not sure what to expect from an airport lounge and find yourself asking, what is an Aspire Airport Lounge? And what's on offer? Let's be upfront and honest, if you fancy a four-course meal before your flight, then our lounges are probably not for you.
Aspire Lounges are not restaurants or food outlets. We simply offer a choice of healthy, wholesome and tasty options so that you can choose as little or as much as you need - all free of charge as part of your entry fee.
We also don't rush you out of the door and you're welcome to stay and relax for up to 3 hours (or more if you choose an additional time) before your flight. For those who book an Aspire Lounge direct via this website, we even offer delay cover as standard, so you can stay in the lounge until your flight is ready to depart. 
Help yourself to bacon, scrambled egg and a bread roll, cereals, porridge, yoghurts, fruit and Danish Pastries** at breakfast time, complemented by a freshly brewed coffee, a speciality tea or fruit juice.
Selected lounges have a fresh salad bar where you can help yourself to sliced ham, salad leaves, tomatoes, cucumber and dressings.
Our hearty soups are perfect for those who prefer something hot to keep them going until dinner time.
In short, an Aspire Lounge has been designed to help you feel refreshed and relaxed before you fly; to help you start your trip in style. Get your holiday started from within the airport with Aspire. 
*Our food and drink offering differs from lounge-to-lounge so please check the lounge page that you wish to visit for an up-to-date menu.
---
THE BAR SERVICE
What better way to start your holiday than with a glass of your favourite tipple.
Allow us to pour you your choice of Red, White or Rosé Wine, or perhaps a draught beer is more your thing - all free as part of the entry fee.
There is also a great range of spirits to choose from. We always ask that guests drink responsibly in line with our Fit2Fly policy, as guests that appear intoxicated may not be allowed to board their flight.
Guests are free to help themselves to soft drinks, fruit juices, speciality teas and freshly brewed coffee.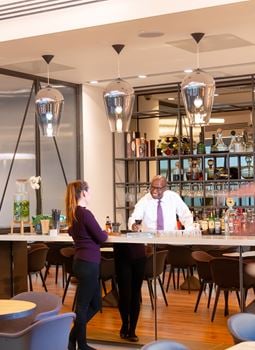 ---
PREMIUM MENU*
Our Premium Menu will be announced in due course.
Menus vary between location and guests are advised to check individual lounge pages for example menus. Food and Drink menus are subject to availability and seasonal changes.

*Items are available for an additional charge at the time of booking or payment directly at the lounge.