2019/2020 Autumn Winter Aspire Lounge Menu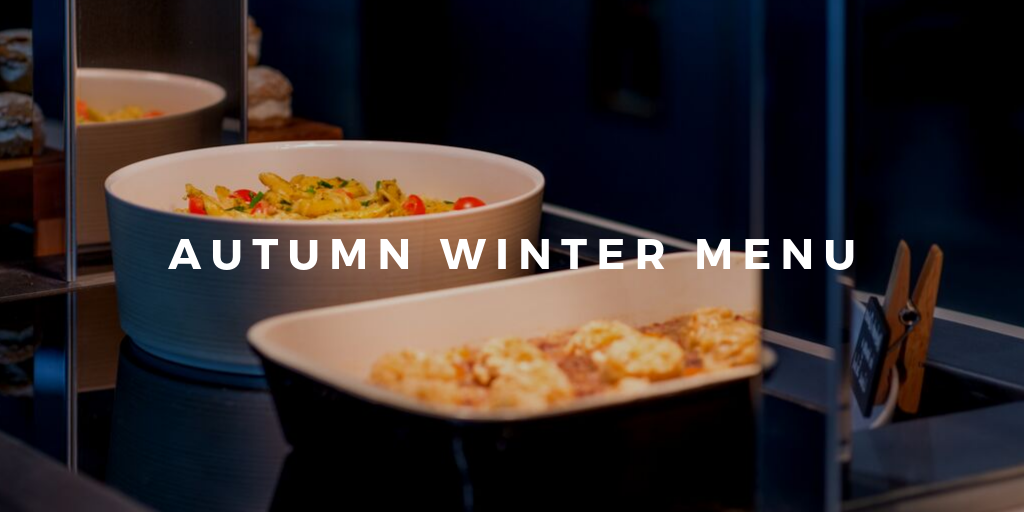 The Autumn/Winter menu selections for the Aspire, Aspire Plus and Club Aspire lounges are now live and available to view on the executivelounges.com website.
This year we have listened more than ever customer feedback to create a hearty, warming and indulgent Autumn/Winter Aspire Lounge Menu. The new menu has been designed to cater for all airport lounge guests and has been created to have something for everyone. This year we've included a variety of options for meat eaters, vegans, vegetarians and have added gluten free selections to the menu.
If you have any questions about any of our dishes' ingredients, please raise these in-lounge or contact our Customer Services Team. 
2019/2020 Aspire Autumn and Winter Menu
All of our usual menu favourites such as the breakfast selection, snacks, desserts and cheeses will still feature in this season's menu. However, from 11am onwards you will have a choice of two hot autumn/winter dishes available, the selection available will depend on your travel date. Please see what hot dishes will be available each month this autumn and winter below.
October & November 
Pulled beef brisket in a rich mushroom, butternut and carrot stew. Best served with mash. (GF)
A rich and spicy cauliflower, red pepper, lentil, apricot, spinach and carrot dahl served with rice and Garlic & Coriander naan 

(GF) 

(Ve)

Rice

(Ve)

Mashed Potato 

(V)

Garlic & Coriander Naan 

(V)
December & January
Pulled chicken breast in leek, bacon, butter bean and cannellini bean tomato sauce. Best served with sweet potato and polenta mash with a Mediterranean medley (GF)
A tangy cannellini and kidney bean tagine with butternut squash, apricots, red peppers and coriander. Best served with aromatic Moroccan style couscous (Ve) (GF)
Moroccan Spiced Couscous (Ve)
Mediterranean Vegetables (Ve)
February & March
Pulled pork in a rich cider, bacon and mustard sauce. Best served with savoy cabbage and leek mash with mixed veg (GF)
A rich tomato and smoky stew of butternut squash, chick peas, spinach, carrots and spices (V) (GF)
Butternut Squash & Chickpea Casserole(Ve) (GF)
Rice (Ve)
Mixed Vegetables (Ve)
What airport lounges have the new Autumn and Winter 2019/2020 menu?
The UK and Ireland Aspire, Aspire Plus and Club Aspire Lounges which offer this new seasonal menu include:
Creating the New Aspire Lounge Menu 
We created this year's autumn and winter menu by reviewing what our customers have said about our menus over the last 2 years, we looked at what our customers want from the menu, what you like and what you don't like as a whole. 
Once we collated all this information from customer reviews and feedback forms, we started looking at what our menu options were. We worked with our food partners to create hot dishes to include in this season's menu which met as many of our customer's requests as possible. We did tasting days to trial which dishes would work best in our lounges (tough job, but someone has to do it).
If you would like to leave us some feedback on any of our menu selections, please get in touch with our team or complete our Aspire Lounge Survey.
We hope you enjoy this season's Aspire Lounge Menu, it's been tailor made for you. 
Book Your Next Lounge Visit
If you would like to sample our new menu, why not book the Aspire Lounge ahead of your next trip. Booking direct via the our website entitles you to guaranteed delay cover, exclusive senior discount (for those over 65) and so much more. 
Booking any of our Aspire Lounges also allows you to take advantage of the Wi-Fi, complimentary food and drinks, comfortable seating areas, views of the airport and runways (in applicable lounges) and a place to relax ahead of your flight.
Sign Up to the Aspire Airport Lounges Mailing List
If you would like to receive all the latest Aspire news, offers and updates, why not sign up to our mailing list? Signing up only takes a minute and allows you to tell us exactly what you want us to email you about, so you will only receive emails about things relevant to you.
Share this post Share Article on Facebook Share Article on Twitter Share Article on Linkedin Share Article via Email