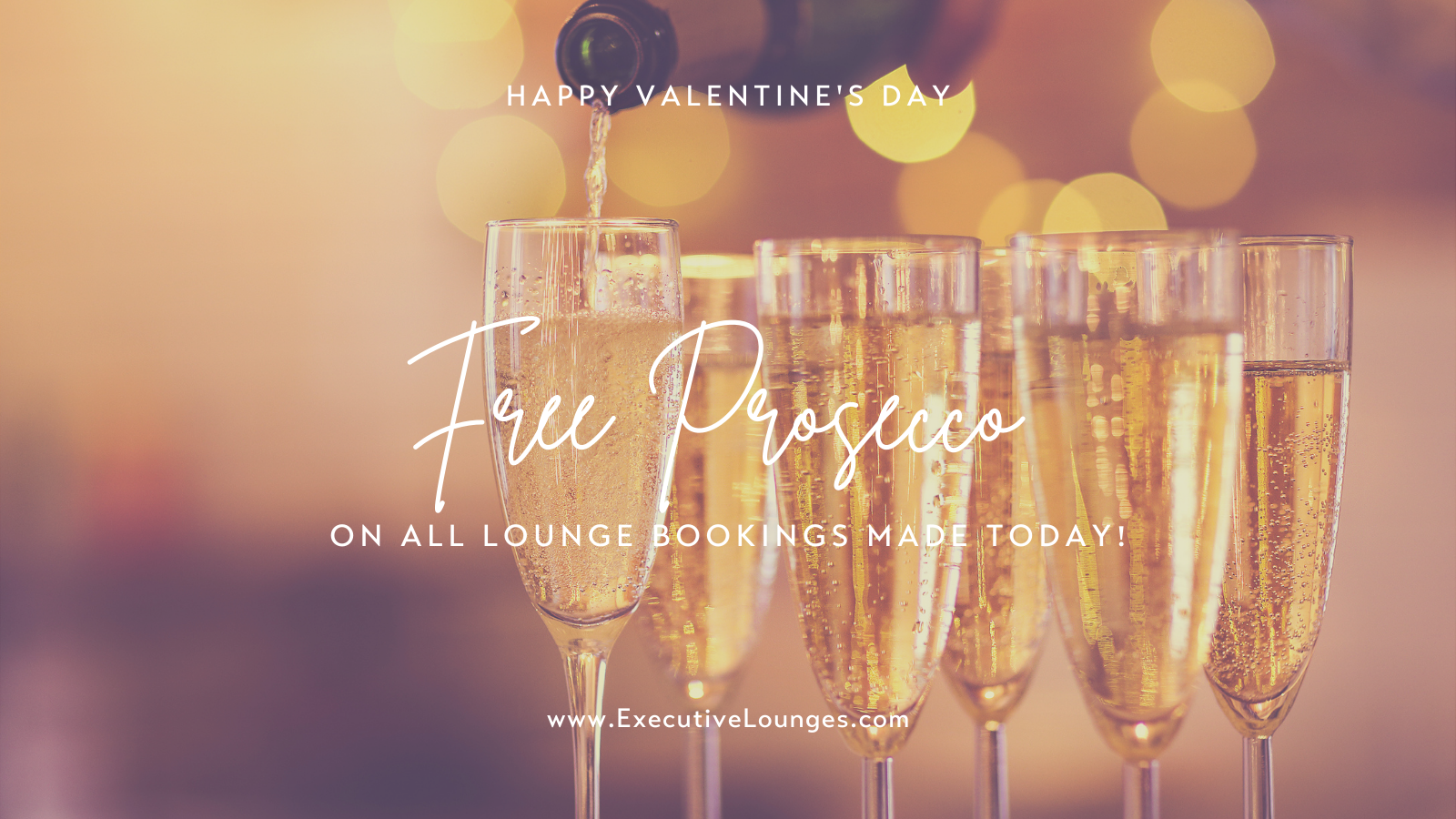 This Valentine's, 2021 to spread a little love, we're giving every customer who books a lounge visit a free glass of prosecco for every adult on their booking! 
This Valentine's Day 2021 offer is live from 14th February - 21st February 2021 and can only be redeemed on Aspire Lounges (third party lounges are excluded from this offer) in the UK & Ireland when booked via www.executivelounges.com
The lounges this offer is applicable to includes Club Aspire and AspirePlus Lounges at the following locations:
Belfast City (BHD)
Birmingham (BHX)
Bristol (BRS)
Cork (ORK)
Edinburgh (EDI)
Edinburgh New (EDI)
Humberside (HUY)
Inverness (INV)
Liverpool (LPL)
London Gatwick (North Terminal) (LGW)
London Gatwick (South Terminal) (LGW)
London Heathrow (T3 and T5) (LHR)
London Luton (LTN)
Manchester (T1 and T2) (MAN)
Newcastle (NCL)
The 1 glass of prosecco per adult or senior product per booking is applied in the 'Extras' stage in the basket process. Bookings must be made on www.executivelounges.com for the offer to be valid. This offer is only applicable on Swissport owned and operated lounges in the UK and Ireland. Offer excludes all 3rd party lounges and lounges that are not located in the UK or Ireland. Only one glass of Prosecco will be added to each adult or senior lounge entrance in the basket process, the glass of Prosecco cannot be exchanged for any other extra. Offer is subject to availability.
Alcohol will only be served to those over the age of 18 at Aspire Lounges. You may be requested to provide proof of age before being served your complimentary drinks.
Redeeming Your Discount
This offer will be live from 00:00 on 14th February 2021 until 23:59pm 21st February 2021. To get your free glasses of prosecco, simply make your booking as normal, by selecting the lounge you'd like to visit and inputting your flight details and number of guests; then add a glass of prosecco for each adult or senior on your booking in the Extras phase of the checkout. 
It doesn't matter when your lounge visit date will take place, providing it is booked between 14th February - 21st February 2021, you can redeem your free glass of prosecco per person.