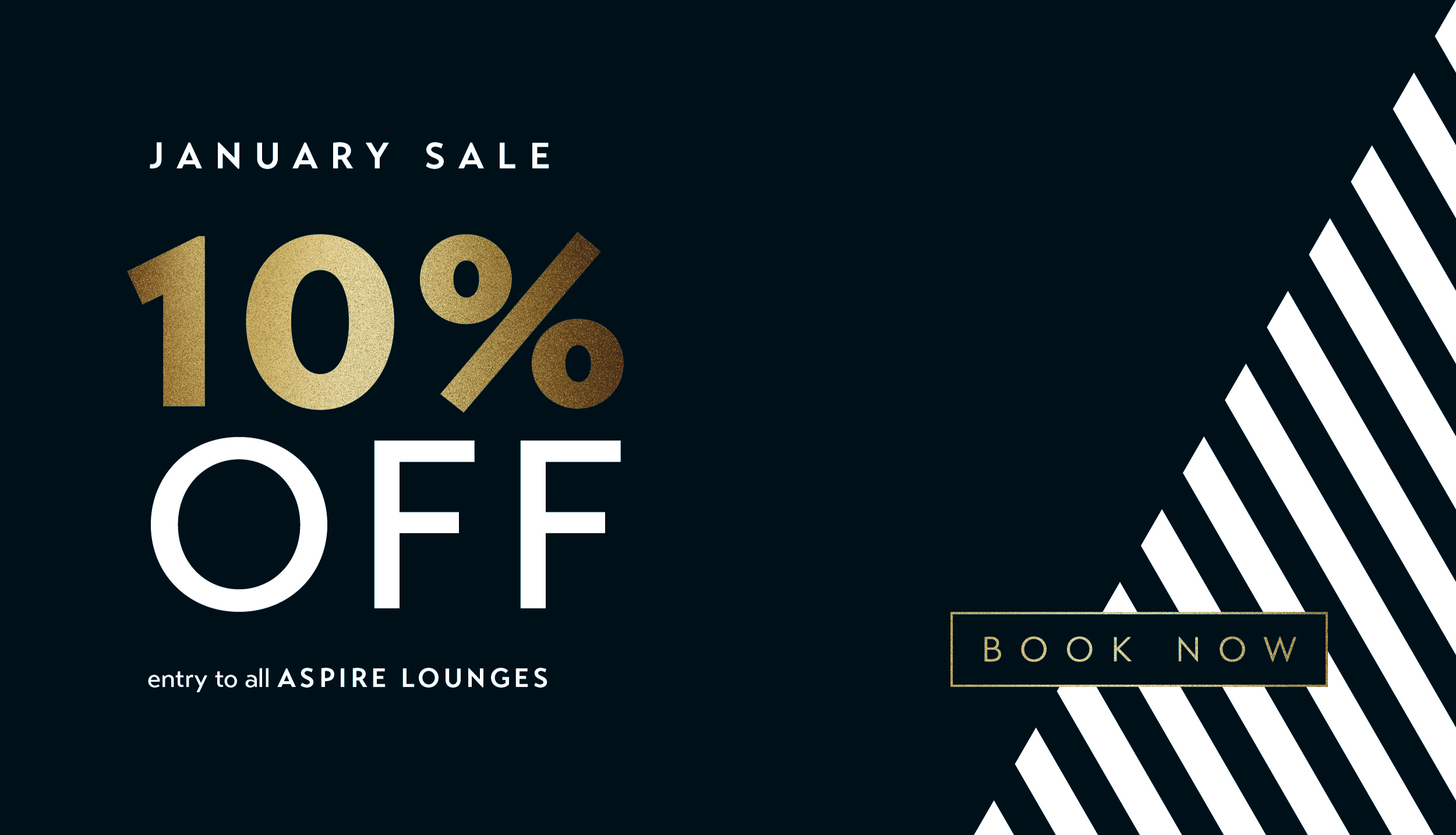 Get 10% off all Aspire Lounges visits in our January Sale!
Enter promotional code JANUARY at checkout
Includes Aspire Lounges in the UK, Europe, Australia, Canada, USA, Africa & Japan. 
Terms & Conditions
This discount can be used for any visit to any participating Aspire Lounge currently on sale, for any future travel date (subject to availability) providing it is booked between 00:00 on 1st January - 23:59 on 15th January 2023. 
This 10% discount can only be used on lounge entrance products (adult, child and senior entrance tickets into an Aspire Lounge). Extras (such as, but not limited to champagne and prosecco) are excluded from this offer.
Club Aspire Lounges, No1 Lounges and Third Party Lounges are excluded from this promotion.
This offer is only applicable for those booking an Aspire Lounge visit via the ExecutiveLounges.com website. This discount cannot be used in conjunction with any other offers.
Standard Terms and Conditions and Terms of Entry apply. Please see www.executivelounges.com/terms for details.
Participating Lounges
The Aspire Lounges which are applicable for this offer include:
United Kingdom & Ireland
Belfast City Airport Aspire Lounge

Birmingham Airport Aspire Lounge

Bristol Airport Aspire Lounge

Cork Airport Aspire Lounge

Edinburgh Airport Aspire Lounge (Gate 4)

Edinburgh Airport Aspire Lounge (Gate 16)

Humberside Airport Aspire Lounge

Inverness Airport Aspire Lounge

Liverpool John Lennon Airport Aspire Lounge

Luton Airport Aspire Lounge

Manchester Airport Terminal 1 Aspire Lounge

Manchester Airport Terminal 2 Aspire Lounge

Newcastle Airport Aspire Lounge

Newcastle Airport Aspire Plus Lounge
Africa
Jomo Kenyatta Nairobi Airport Aspire Lounge

Kilimanjaro Airport Twiga Lounge by Aspire

O R Tambo Airport Aspire Lounge
Australia
Melbourne Airport The House by Aspire

Perth Airport Terminal 1 International Aspire Lounge

Perth Airport Terminal 2 Domestic Aspire Lounge

Sydney Airport The House by Aspire
Europe
Amsterdam Aspire Lounge 26

Amsterdam Aspire Lounge 41

Copenhagen Airport Aspire Lounge

Basel-Mulhouse-Freiburg EuroAirport Skyview Lounge by Aspire

Eindhoven Airport Aspire Lounge

Geneva Airport Crystal Lounge by Aspire

Geneva Airport Swissport Horizon Lounge

Helsinki Airport Aspire Lounge

Larnaca Airport Aspire Aphrodite Lounge

Sofia Airport Aspire Lounge

Zurich Airport Aspire Lounge (Midfield-Terminal)

Zurich Airport Aspire Lounge (Airside-Center)
Japan
Narita Airport Terminal 2 Aspire Lounge
North America
Calgary Airport Aspire Lounge International

Calgary Airport Aspire Lounge Transborder

Montreal Airport National Bank Lounge

Ottawa International Airport Aspire Salon Lounge

San Diego Airport Aspire Lounge

Ontario Airport (California) Terminal 2 Aspire Lounge

Ontario Airport (California) Terminal 4 Aspire Lounge