Post-lockdown Holidays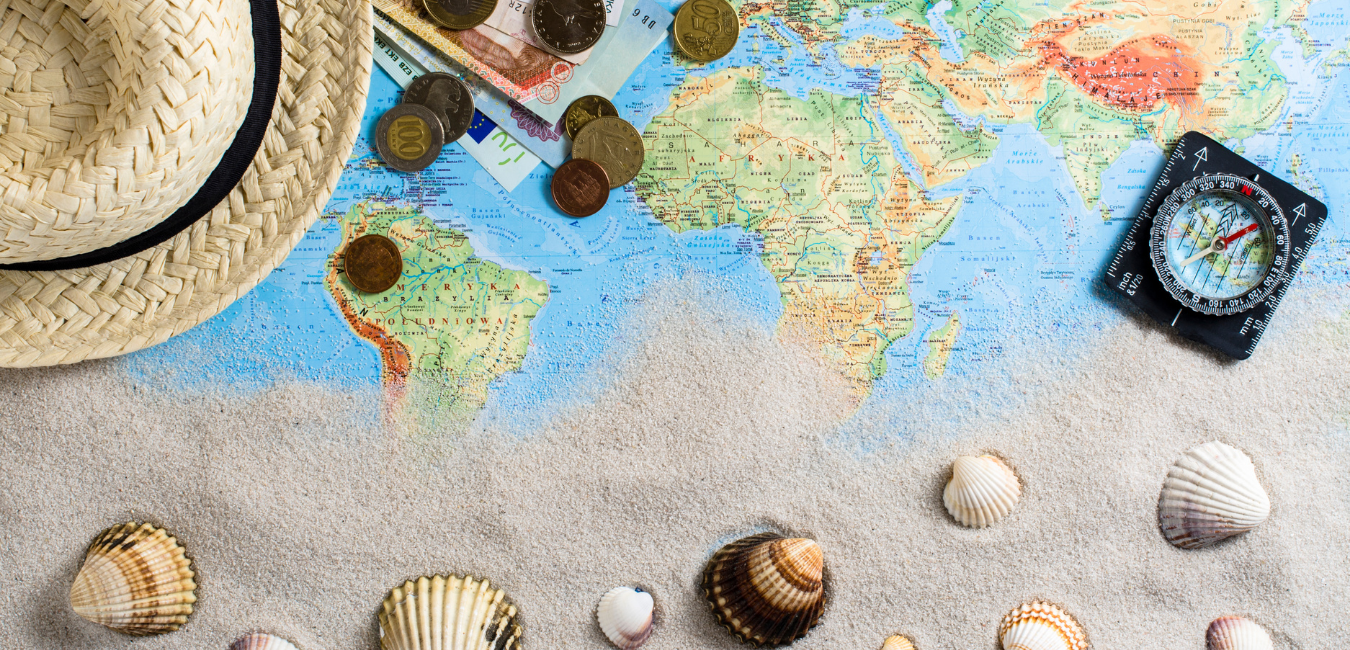 Deciding on your next holiday destination can be a difficult task. Are the vast, white beaches of Jamaica calling your name? Or perhaps a European city break to Barcelona to soak up the culture? Maybe you love adventure holidays and the slopes of the French Alpes are calling your name? Or maybe a walking or hiking holiday is more your bag?
With so many of us being cooped up over the last year and unable to travel, deciding on your first post-lockdown holiday could be a tough task. But, don't worry, we're here to help. In this blog we'll walk you through some of the best types of holidays and holiday destinations to visit post lockdown. 
The Beach Holiday
Do you love sunbathing? Does spending the day sprawled out relaxing by a pool or on a sandy beach in a sunny 25+ degrees location sound like utter bliss to you? If you're looking for a vitamin D boost and to enjoy some relaxation in a sunny climate, here are some of our top sunny beach holidays we'd recommend.
Jamaica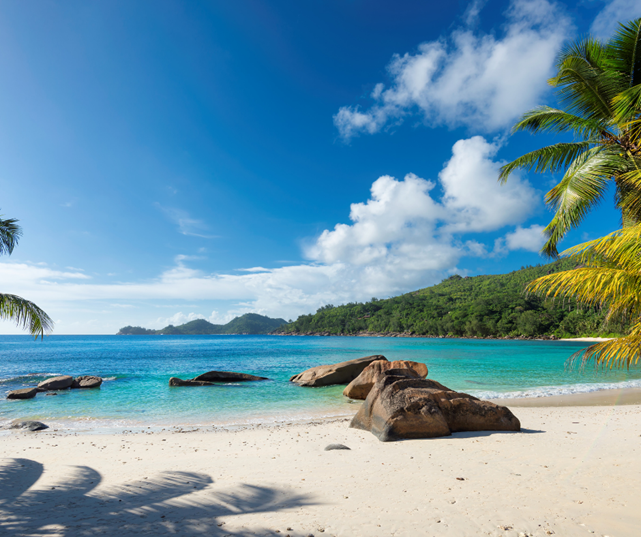 If you've got a sizeable budget for your first post-lockdown holiday, Jamaica is a perfect option to consider for a blissful beach holiday. 
Jamaica is surrounded by the Caribbean sea, making its beaches some of the most beautiful anywhere with their white sand and blue sea. Many of Jamaica's beaches are also surrounded by lush greenery.
Worried you can't travel until the winter months? No problem! Jamaica is a popular year round sunny destination and can be visited anytime for some much needed sun.
If you get tired of relaxing on Jamaica's breath-taking beaches there is lots of activities and tours to join to explore Jamaica's amazing culture and landmarks, including the Bob Marley Museum, Dunn's River Falls & Parks, Rick's Café, Blue Mountains and many more! If you are ever stuck for inspiration on what to do in Jamaica, check out TripAdvisor's guide.
You can fly to Jamaica from many major UK airports including:
London Heathrow Airport
London Gatwick Airport
Manchester Airport
Birmingham Airport
Bristol Airport
Doncaster Sheffield Airport
Glasgow International Airport
Newcastle International Airport
We also offer an airport lounge at Norman Manley International Airport for your return journey. Find out more about the Club Kingston Lounge at Norman Manley International Airport.
Sardinia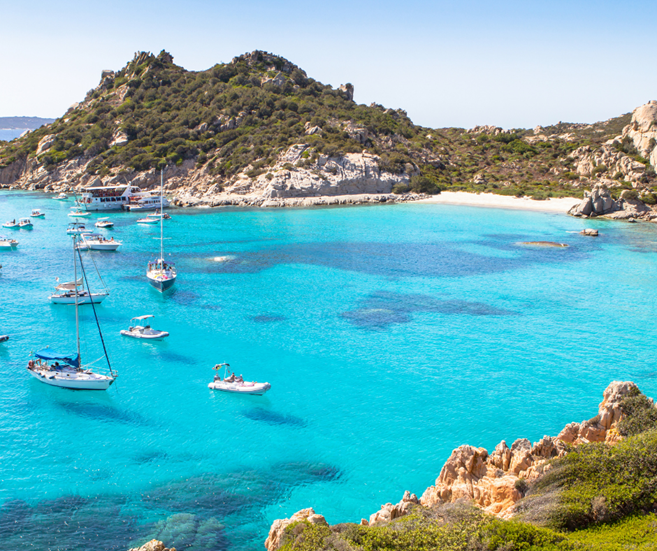 A holiday to Sardinia can be done on a budget or as a luxury holiday, the choice is yours. The flight time from most UK airports to Sardinia is under 3 hours (direct) making it a great short haul trip. But, one of this Italian island's biggest appeals is its many beautiful sandy beaches. Sardinia has almost 2,000km of coastline offering up many amazing beaches for tourists to enjoy. 
Not only does Sardinia offer some amazing beaches, there are also a number of caves you can visit on day trips such as those at Cala Luna and Neptune's Grotto. 
If you like to take time out from sunbathing, Sardinia also offers some amazing hikes, you can hike to many secluded beaches or to historic landmarks around the island. 
You can fly direct to Sardinia from London, Birmingham (BHX), Bristol (BRS) and Manchester (MAN) airports.
Cornwall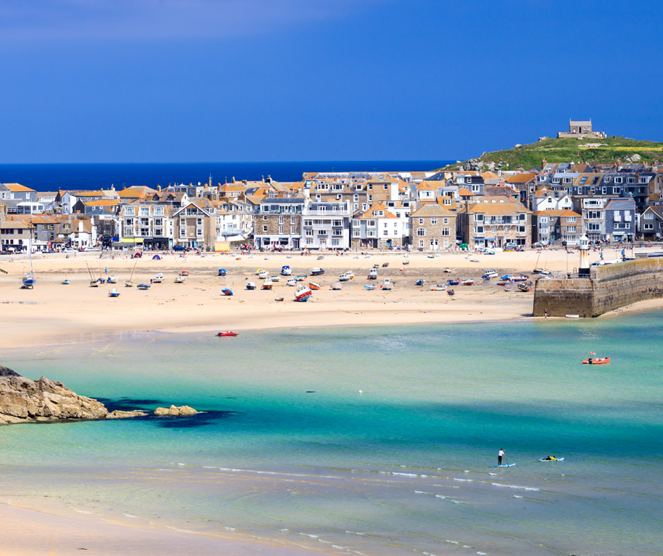 If you don't want to travel internationally for your first holiday post-lockdown, don't worry, there are some amazing beaches right here in the UK too. One of the best beach holiday destinations in the UK is Cornwall. 
Cornwall's temperatures usually peak in July with highs of around 19 degrees.
Cornwall offers many beautiful sandy beaches for travellers to sunbath and relax on such as St Ives, Bude, Kynance Cove, Porthpean Beach and many more!
If you decide to take in some sights or attractions during your holiday, Cornwall has many to offer including a King Arthur Tour, kayaking, gardens and nature walks, the Eden Project, Pendennis Castle and many more historic sites.
The good news for anyone in the UK planning to take a trip to Cornwall is, getting there is easy, you can drive, get the train, get a coach or catch a short flight.
The City Break
If sunbathing and taking it easy isn't for you, a city break is the perfect post-lockdown escape! Do you love exploring new cities and the sites they have to offer? How about exploring a cities cultural and dining delights? Below we've listed what we think are some of the best city breaks on offer and are perfect for some post-lockdown adventure. 
Dubai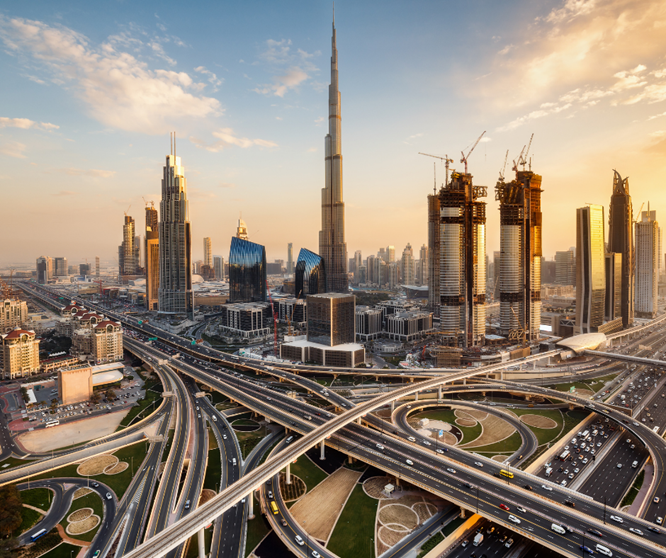 People flock to year-round sunny Dubai not just to enjoy it's beaches and sunny climate, there is also so much to do and see in this city! 
Shopping lovers won't be disappointed with Dubai's many malls, you can shop designer or high street in Dubai's many impressive malls. 
If you love thrill seeking, there is plenty of activities to choose from in Dubai including sky diving, race car driving or quad biking dessert safari. 
Dubai is also a great city for dining, you can choose from this city's many restaurants, including Nobu based at the Atlantis Hotel. If a skyline view while you dine is for you, you're in luck, you have many restaurants in Dubai to chose from including the Eve Penthouse & Lounge (5 star rated on TripAdvisor), Tribes Carnivor (also rated 5 starts on TripAdvisor and #1 steakhouse in Dubai) or Khyber, who specialise in Indian cuisine which is also rated 5 star on TripAdvisor.
You can fly direct to Dubai from many major UK airports, including: Heathrow, Gatwick, Manchester, Birmingham, Newcastle and Glasgow.
Book a visit to an Aspire airport lounge in either of these UK airports ahead of your trip to Dubai.
You can also book a lounge visit at Dubai airport for your return journey.
Barcelona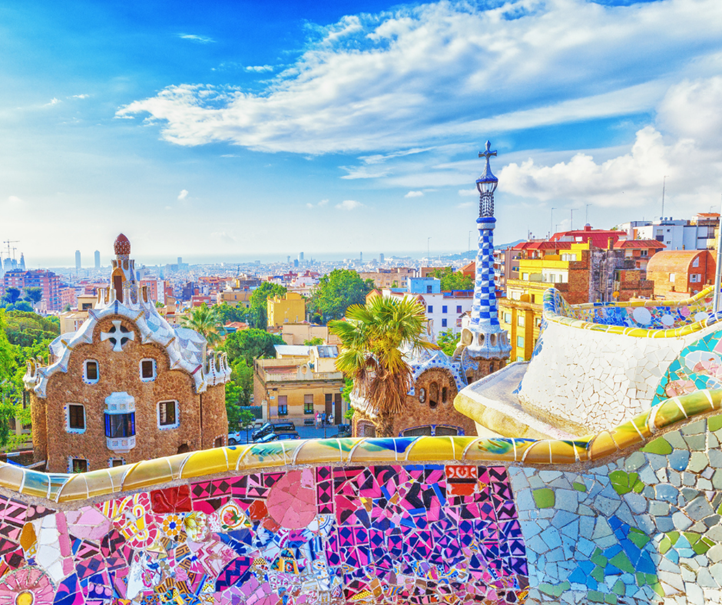 If you are looking for a short-haul city break, there is no better place than Barcelona. You can be in Barcelona from many UK airports within 2 - 3 hours via direct flights. 
Many budget airlines also fly to Barcelona, so this isn't a trip that will break the bank balance. 
Barcelona is a city break with it all, you can enjoy the sunny Spanish weather throughout the summer months and there is an endless list of attractions and sights to see in this vibrant city. Beach lovers won't be disappointed with this city break, Barcelona has over 4.5km of coastline with many sandy beaches to visit within close vicinity to the city.
One of Barcelona's best know attractions is the famous Las Rambles street, a street which is buzzing with life all year round. There are a wealth of shops, restaurants, art installations, statues, street performers and much more to be found on this 1.2km stretch of street.
If you are a culture and arts lover, Barcelona is the perfect trip for you. There are many architectural wonders to behold in Barcelona and many museums, music venues and art galleries scattered throughout the city. 
You can fly direct to Barcelona from many UK airports, including: London, Manchester, Birmingham, Liverpool, Edinburgh, Nottingham, Leeds, Glasgow, Bristol, Newcastle, Cardiff, Belfast and Humberside.
Browse and book in at any of our Aspire Lounges in these locations.
London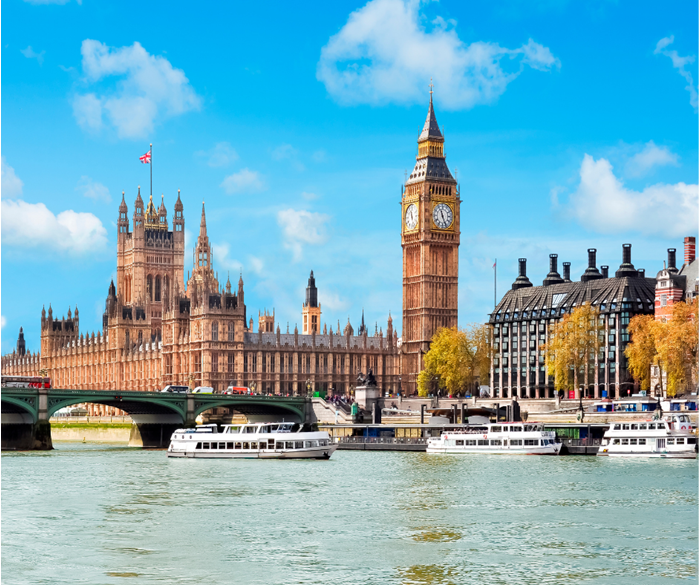 If you're not quite ready for international travel just yet, don't worry, one of the best city breaks the world has to offer is right on your doorstep - London!
London is a city with a rich and long history and has many attractions and landmarks to visit, some of which you can enjoy for free. There are a number of museums which are free to visit in London, such as the British Museum, Natural History Museum, the National Heritage Museum and more. There is also a collection of art galleries you can visit in London free of charge including Tate Modern, the National Gallery and The Wallace Collection. 
London has a wealth of parks and gardens you can also visit free of charge, which are perfect for enjoying a summer's day picnic in.
London is also a great city to watch a show, explore the city's architecture, enjoy attractions such as the London eye or a river cruise, the choices are endless.
London is also a hot spot for avid shoppers where you can visit the world famous Harrods, Liberty London, Fortnum & Mason and many more.
Foodies won't be disappointed with the many dining options available to you in London, you can eat street food, enjoy fine dining and much more in London's many restaurants throughout the city.
You can travel to London from across the UK via train, bus/coach and via air travel. 
Adventure Travel 
Does the thought of sunbathing all day make you feel restless? If sunbathing and leisurely travel breaks are not your thing, if you prefer to spend your vacations being active and thrill seeking, an adventure holiday is for you. 
We've listed what we think are some of the best adventure travel holidays you could enjoy to blow those post-covid cobwebs away below. 
Skiing in the French Alps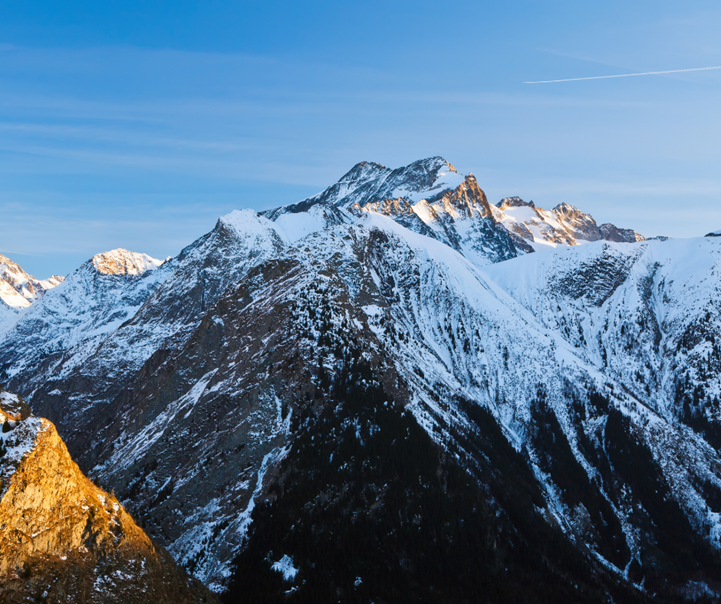 Whether you are a first time skier or whether you are a regular on the slops, you can't go wrong with a visit to the French Alps with their many ski resorts to choose from. The French Alps are world renowned for their high mountains, amazing ski lift networks and well kept pistes. 
With flights to the Alps taking around 1 hour from most UK airports, the French Alps are an amazing short haul destination.
If skiing isn't the only activity you want to partake in on this vacation, don't worry the French Alps has much more to offer including ice climbing, giant zip wires, dog sledding and snowshoeing.
San Gil, Columbia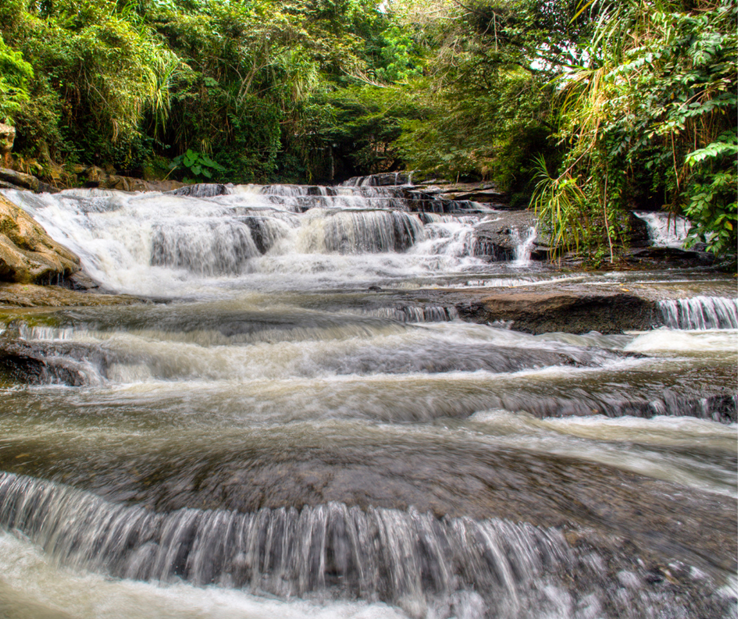 If you like your adventure holidays with some sun and don't mind travelling a bit further afield, San Gil in Columbia is a great adventure holiday destination. 
San Gil is a small town in Columbia with a lot to offer, you can partake in activities such as horse riding, white-water rafting, waterfall walks, skydiving, mountain bike tours, kayaking, paragliding and bungee jumping.
San Gil's landscape offers the perfect backdrop for all of these activities with its many waterfalls, greenery, trails, mountains and national park Chicamocha Canyon. 
However, this trip will require a budget on the bigger side with it including a long haul flight of around 14 hours from the UK.
The Lake District, UK
If you love adventure holidays but are not wanting to travel too far afield this year, don't worry, there are many kinds of adventure trips you can take right here in the UK!
One of the best places to visit in the UK for an adventure holiday is the Lake District. The best time to visit the Lake District is between April - October.
The Lake District offers adventure travellers the opportunity to enjoy zip wires, abseiling, climbing, ghyll scrambling and numerous scenic walks. 
Many hotels in the Lake district are also dog friendly, so you can even bring your furry friend on holiday with you too.
Wherever you end up on your next trip, have a safe and happy one, Bon Voyage!
Share this post Share Article on Facebook Share Article on Twitter Share Article on Linkedin Share Article via Email