We are proud to be supporting Stand Up To Cancer again this year...
In October 2016, the amount of money we raised came from our lovely customers who made bookings on our website in that month. We are delighted to be partnering with Stand Up To Cancer again, but this time we want to be bigger, better and a whole lot more orange!
Last Years Grand Total: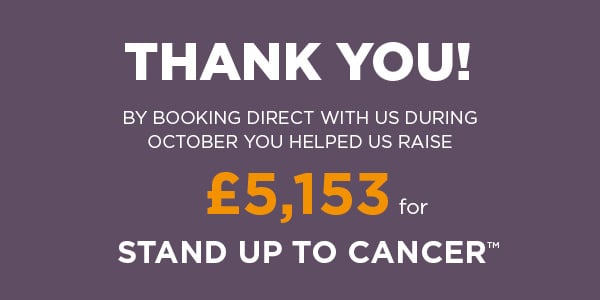 What happens to the money raised?
100% of the money we raise goes directly to Cancer Research who use it to further research the disease and ways of treating cancer. Stand Up To Cancer is a joint national fundraising campaign from Cancer Research UK and Channel 4, calling on the UK to stand together and rise up against cancer. The money raised funds translational research – research designed to take breakthroughs in the lab and transform them into new tests and treatments for the patients who need them right now, saving lives. Help us to bring about cancer's downfall.
YOU CAN READ MORE ABOUT STAND UP TO CANCER'S WORK BY CLICKING HERE
Twitter: @StandUp2C    

Facebook: Stand Up To Cancer UK
Stand Up To Cancer and Stand Up To Cancer Brand Marks are registered trademarks of the Entertainment Industry Foundation. Cancer Research UK is a registered charity in England and Wales (1089464), Scotland (SC041666) and the Isle of Man (1066). Cancer Research UK is registered as a company limited by guarantee in England & Wales No. 4325234. Cancer Research UK's registered address: Angel Building, 407 St John Street, London EC1V 4AD. Donations will be made to Cancer Research UK in support of the Stand Up To Cancer campaign.
Share this post Share Article on Facebook Share Article on Twitter Share Article on Linkedin Share Article via Email