Grand total! - Stand Up To Cancer!
Throughout the month of October, we have been supporting Stand Up To Cancer by donated £1 per paid person for bookings made directly with us at executivelounges.com. Our fantastic lounge agents have also been selling wristbands and running competitions within the lounges in support. Last year we managed to raise an impressive £7,354. we can finally confirm that with your help, this year we have raised a grand total of: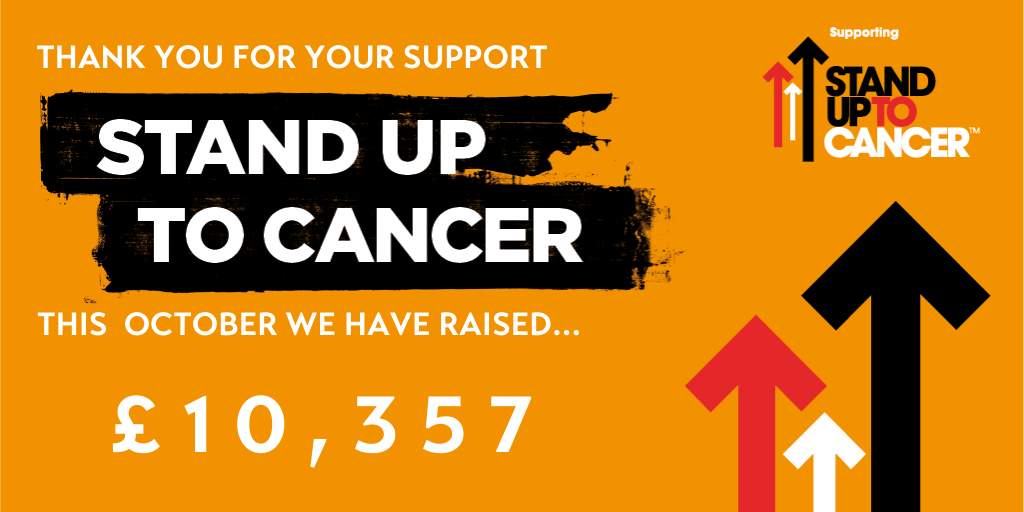 Why we're supporting
Here at Executive Lounges, Stand Up To Cancer is an organisation we strongly support and have been partnered with since 2016. Our customer support team receives a shocking number of calls and emails each week from customers who are affected by cancer, as well as many of our staff being personally affected. Our properties & projects manager. Chris Thomas is just one example of this and shared his story here.
100% of the money you have raised will go towards efforts to speed up life-saving cancer research. Stand Up To Cancer take developments in the lab and turn them into brand new tests and treatments for cancer patients. Right now, 2 in 4 people survive cancer. The organisation aims to make this 3 in 4 by 2034, and with your donations, they are one step closer to this goal.
A big thank you from everyone here at Executive Lounges on your support throughout the month of October! Cancer changes lives. So can we.
Stand Up To Cancer and Stand Up To Cancer Brand Marks are registered trademarks of the Entertainment Industry Foundation. Cancer Research UK is a registered charity in England and Wales (1089464), Scotland (SC041666) and the Isle of Man (1066). Cancer Research UK is registered as a company limited by guarantee in England & Wales No. 4325234. Cancer Research UK's registered address: Angel Building, 407 St John Street, London EC1V 4AD. Donations will be made to Cancer Research UK in support of the Stand Up To Cancer campaign.