Chris's Story - Stand Up To Cancer
During the month of October, we have been raising money for Stand Up to Cancer. We are donating £1 per paid person for bookings made directly with us at Executive Lounges. We are supporting the organisation to fund life-saving cancer research.
Here at Executive Lounges, many of our colleagues have been affected and we receive a staggering number of calls from our customers who have been affected by Cancer.
Our very own Chris Thomas; Properties and Projects Manager for the UK and Ireland Lounges, has been affected directly. Read about Chris's experience today and why he's supporting Stand Up to Cancer.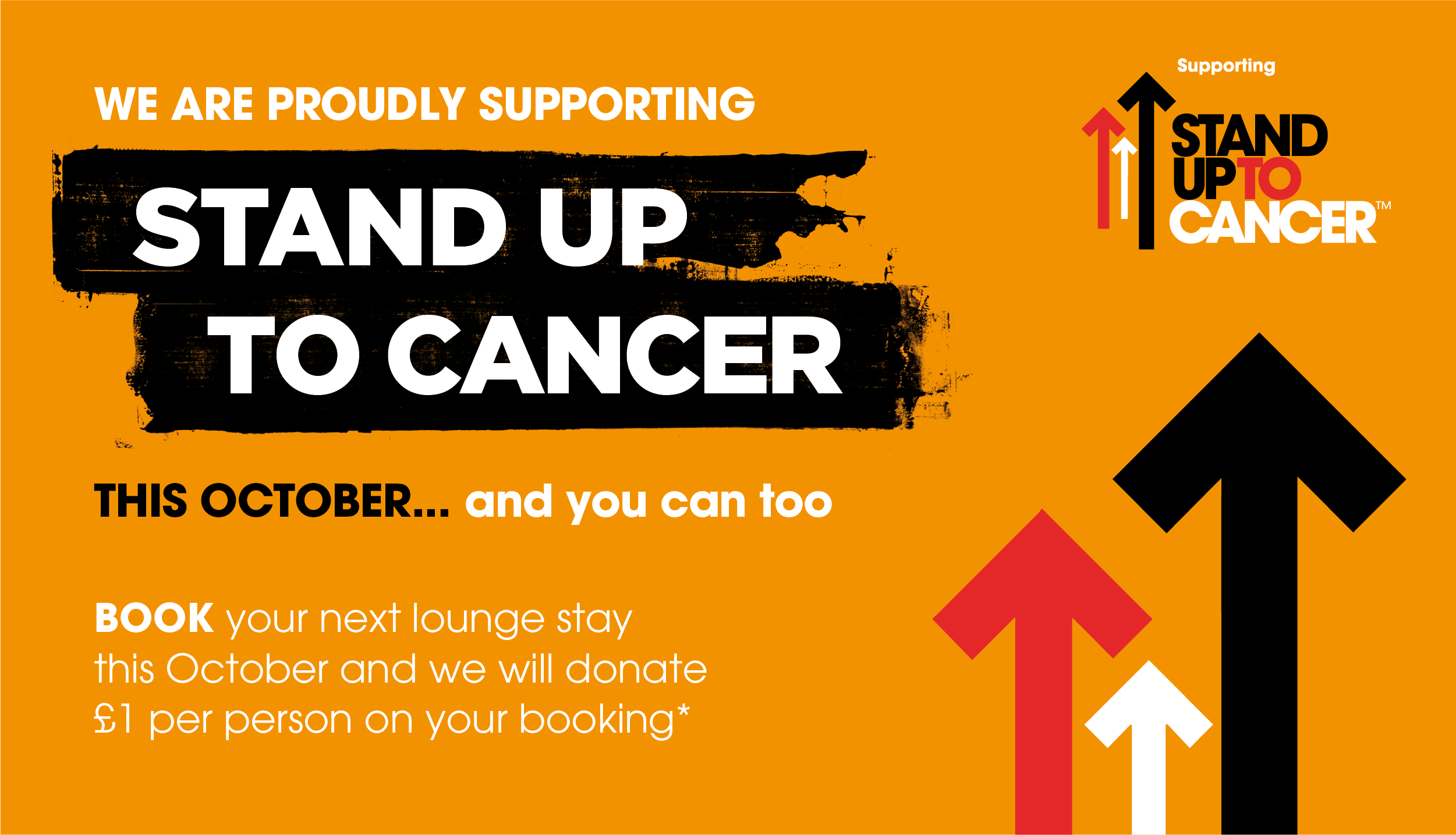 Chris' Story
I was a fit 36 year old husband and father of three when I began to feel a tiredness that I have never had before, the need to sleep two or three times a day.  I had also noticed a lump under my left armpit which being a typical bloke I chose to ignore initially.

A visit to the Doctor and I was told not to worry, just a Lipoma which will go away. Not comfortable with this, I got a second opinion, which resulted in a CT scan and an operation to remove a Lymph node for biopsy. Two days later it was confirmed that I had Stage 1 Hodgkin's Lymphoma, cancer of the Lymphatic system.

Wow – the C word! What do you do, how do you react, what do I tell the kids, my Mum and Dad, will I survive? All these thoughts bounced around in my head.

Two weeks later and I start my treatment, 6 rounds of ABVD Chemotherapy treatment at the fantastic Christie Hospital in Manchester followed by four weeks of Radiotherapy; all very frightening.

The Chemotherapy was hard work, the day of treatment was manageable, day two was hard and then thud; day three, four and five belonged in bed while the drugs got to work. A week to recover and then it started again.

Radiotherapy was easier on the body, just the inconvenience of going to the hospital every day for four weeks for 30 seconds of zapping, and then that was it, no appointments to attend, try to rebuild your strength and life hoping that the treatment had worked.

Four weeks later and we attended an appointment with my oncologist preceded by scans, x-rays and blood tests. The results were in and I was free of cancer and in remission. This news took a good week to sink in but what a relief it was to me, my wife, my children who were too young to know what it all meant and my family and close friends.

I had done it, I had beaten cancer!

Treatments for cancer have gotten better over the years - anti-sickness for the Chemotherapy, more direct treatments made for individuals and better scans for example. However, all these treatments need medical research before they are made available to patients. I chose to assist on a medical trial for a new type of scan, the PET scan which had the potential to eliminate the need for Radiotherapy for future patients. It made no difference to the way I was treated but would give hope to those in the same position in the future.

This is why appeals such as Stand Up to Cancer are so important. Medical trials, new treatments, and equipment all take money to bring to reality. Without this, the cure for cancer would be years away but there is light at the end of the tunnel. There are some fantastic professionals working in research who need our help because one in two of the population will be affected by cancer in some way in their lives so everyone is included. 

There is also the hidden side of recovery from a serious illness - the psychological side, which I suffered with post-treatment. How would this experience change me? Where do I fit in and who can I talk to? Will it come back? I was diagnosed with PTSD, something I thought only happened to the armed forces after returning from the front line. 12 years later and I still think about it daily, it's hard – very hard.

Thanks for reading and thanks for donating!
Ways to support #SU2C
There is still one week left to support directly through your lounge booking. If you already have a lounge booking, don't worry, it's not too late. Our lounges are selling wristbands and have charity boxes for anyone wanting to donate when they arrive in the lounge.
Dig deep and donate to help beat cancer at its own game!
If you don't have a trip coming, you can still donate to Stand Up to Cancer today.
You can find out more about the fantastic work Stand Up to Cancer is doing on Twitter and Facebook.
Stand Up to Cancer and Stand Up to Cancer Brand Marks are registered trademarks of the Entertainment Industry Foundation. Cancer Research UK is a registered charity in England and Wales (1089464), Scotland (SC041666) and the Isle of Man (1066). Cancer Research UK is registered as a company limited by guarantee in England & Wales No. 4325234. Cancer Research UK's registered address: Angel Building, 407 St John Street, London EC1V 4AD. Donations will be made to Cancer Research UK in support of the Stand Up to Cancer campaign.
Share this post Share Article on Facebook Share Article on Twitter Share Article on Linkedin Share Article via Email