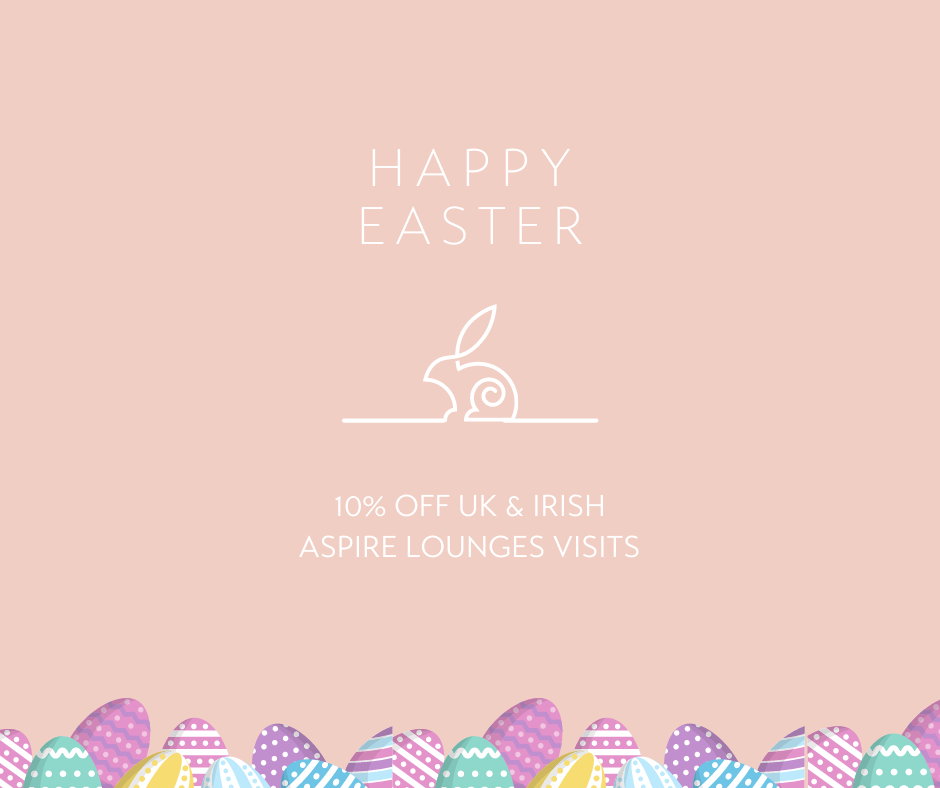 Swissport are offering 10% off all UK & Ireland Aspire Airport Lounge bookings this Easter from 4th - 5th April 2021 via the www.ExecutiveLounges.com website. This discount can be used for any visit to any participating Aspire Lounge currently on sale providing it is booked before midnight on 5th April 2021.
This 10% discount can only be used on entrance products (adult, child and senior entrance tickets into an Aspire Lounge). Gift vouchers, e-vouchers, extras (premium drinks such as champagne and prosecco) and annual memberships are excluded from this offer.
This offer is only applicable for those booking an Aspire Lounge visit via the ExecutiveLounges.com website. This discount cannot be used in conjunction with any other offers.
Participating Lounges
The Aspire Lounges which are applicable for this offer include:


Belfast City Airport Aspire Lounge
Birmingham Airport Aspire Lounge
Birmingham Airport Aspire Lounge (South)
Bristol Airport Aspire Lounge
Bristol Airport Aspire Plus Lounge
Cork Airport Aspire Lounge
Edinburgh Airport Aspire Lounge
New Edinburgh Airport Aspire Lounge
Humberside Airport Aspire Lounge
Inverness Airport Aspire Lounge
Liverpool John Lennon Airport Aspire Lounge
London Gatwick North Terminal Club Aspire Lounge
London Gatwick SouthTerminal Club Aspire Lounge
London Heathrow Terminal 3 Club Aspire Lounge
London Heathrow Terminal 5 Aspire Lounge
Luton Airport Aspire Lounge
Manchester Airport Terminal 1 Aspire Lounge
Manchester Airport Terminal 2 Aspire Lounge
Newcastle Airport Aspire Lounge
Newcastle Airport Aspire Plus Lounge