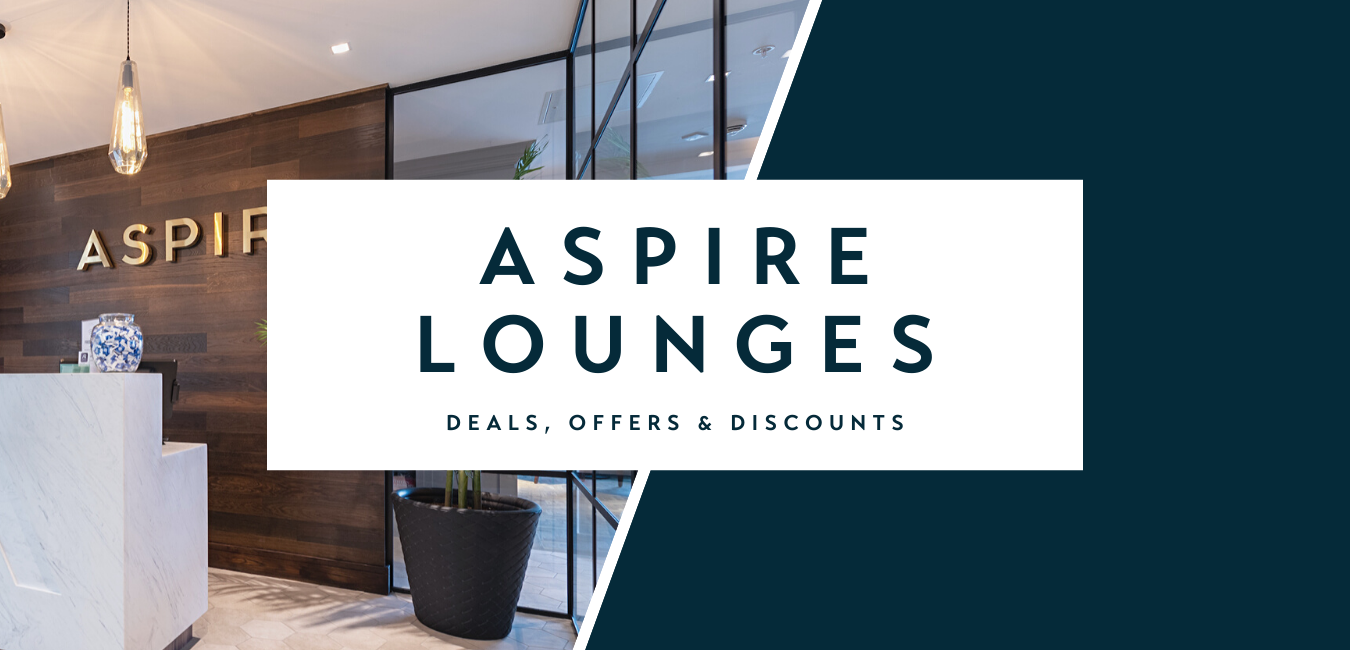 The ensure your get the best price when booking an Aspire Airport Lounge, book direct with ExecutiveLounges.com 
Aspire Lounges Direct Bookers Offering
There are some great benefits and discounts you get when booking an Aspire Lounge visit direct at ExecutiveLounges.com, including:
Price match guarantee - we offer the best value prices for our lounges, but if you do happen to find an Aspire Lounge on sale elsewhere for cheaper, let our team know and we'll match it!
Delay cover for direct bookers. If your flight is delayed, don't worry, you can sit and relax at the airport lounge beyond your allocated 3 hours until your flight is ready to depart. 
No booking fees, unlike many other retailers the price you see in the basket is the price you pay, no nasty surprises when you come to enter your card details!
Exclusive Senior Discount - those aged 65 and over get an exclusive discount when booking at ExecutiveLounges.com on all UK & Ireland Aspire Lounge bookings; this is an exclusive offer to ExecutiveLounges.com - you won't find it elsewhere.
Aspire Lounge Discounts
Excluding the Aspire Lounge discounts and price promisees we offer as standard (listed above), we do not usually offer Aspire Lounge discounts or promo codes. There are some exceptions to this rule however, every year we run the following campaigns when we may offer some sort of offer, deal or bundle:
Black Friday - every Black Friday we here at Aspire Lounges run an offer, this may not always be a discount but is designed to get you in the Black Friday shopping spirit! 
Surprise Festive Campaign - every year around the festive period we reward many of our loyal customers, social media followers and email subscribers with an exclusive discount on Aspire Lounge bookings.
Stay Updated On All The Latest Aspire Lounges Discounts And Offers
The best way to be in the know when it comes to Aspire Lounges discounts and offers is to follow us on social media and subscribe to the Aspire Lounges email subscriber list; you can find all the details you need below.
Sign up for Aspire Lounges emails here. 
Follow Aspire Lounges on Facebook @AspireAirportLounges
Follow Aspire Lounges on Instagram @aspireairportlounges
Follow Aspire Lounges on Twitter @airportlounges
Follow Aspire Lounges on LinkedIn @AspireAirportLounges
Please note: Joint venture lounges (such as Club Aspire, No1 Lounges) and third party lounges (such as Glasgow Upperdeck Lounge) are excluded from any promotions, and book-direct benefits such as (but not limited to) price match, senior discounts and delay cover.