Spring into Summer Menu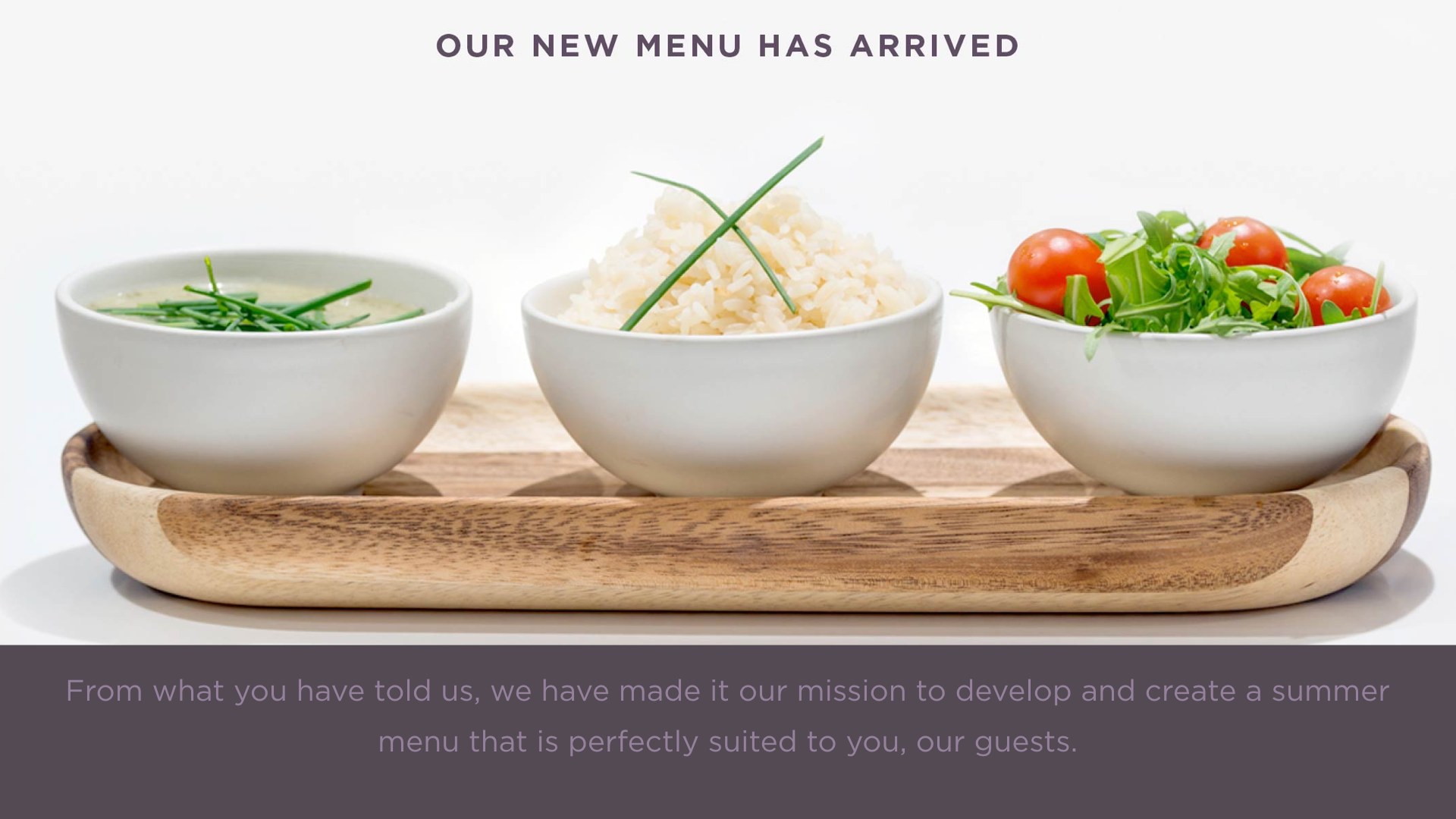 We have listened...
We value all the feedback we receive from our guests, as when we make any additions to our lounges, we want to make sure that they reflect the suggestions and recommendations that our guests have given us. Over the last 6 months or so, we have encouraged and welcomed lots of suggestions about our food menu, and what we could do to make a stay in an Aspire Lounge even better.
...
With our guest's feedback at the forefront of our minds, we embarked on evolving our offering and creating a complimentary menu that is centred around you, our guests. This was followed by tasting events with suppliers and the formation of a tempting, delicious and wholesome menu, that we think you will love.
You asked us to offer more that was suitable for Vegetarian and Gluten-Free diets – so we now have much more choice with fresh salads, curries and snacks that are suitable for vegetarians and those who require gluten-free items.
Those of you who travel with us regularly told us that you would like more variety – so our comprehensive menu will be rotated on a weekly basis, meaning that even regular travellers will be able to indulge in a variety of options each time they lounge with us.
Those of you who travel later in the day told us you wanted more hot options to choose from – so BBQ Pulled Pork, Vegetable Curry and Pizzas have been added to provide just that.
Below is the full comprehensive list below of all our new additions to our lounges:

The following items are subject to rotation on a weekly basis with at least one item available depending on your date of travel. Please ask a member of lounge staff on arrival at the lounge for more details.

Salads
Hot Dishes
Premium Menu
V – suitable for Vegetarians
VE – suitable for Vegans
GF – Gluten Free

Please Note:
Whilst every effort is made to ensure that our menu is accurate, all food and drink items are subject to availability at the time of your visit and may change without prior notice.
Share Share Article on Facebook Share Article on Twitter Share Article on Linkedin Share Article via Email