WHOLEMEAL SCONES by Danuta Kandzia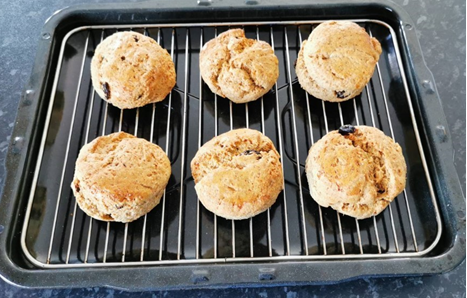 Ingredients:  
3 ½ cups of wholemeal spelt flour  
1 ½ tsp bicarbonate soda  
2 handful of raisins  
150g of unsalted butter  
1 cup of buttermilk  
2 tbls of cane sugar or just sugar  
  Method:  
Preheat oven to 200°C or fan assisted 190°. Put parchment paper on the tray or just grease the tray.   
In the bowl mix flour, soda and sugar 

 

Cut cold butter into small pieces and mix with above so it looks like crumbs. Work it with your fingers.

 

Add raisin. 

 

Make a hole in the middle of your mixture, pour buttermilk and gently 

mixed together

. Make sure it doesn't stick. 

 

Transfer onto flat surface sprinkled with flour and flatten to about 2.5cm/1inch height.

 

Use cup or scone cutter to form your scones

 

Bake for 20-23 min. Check if baked in the middle using skewer or match. 

 

Serve with whipped cream and jam or just what's available!

 

Enjoy!!!

 
Why not try a virtual coffee morning? Grab a cuppa and a slice of cake and use Skype, Teams or WhatsApp to video call friends and catch up?