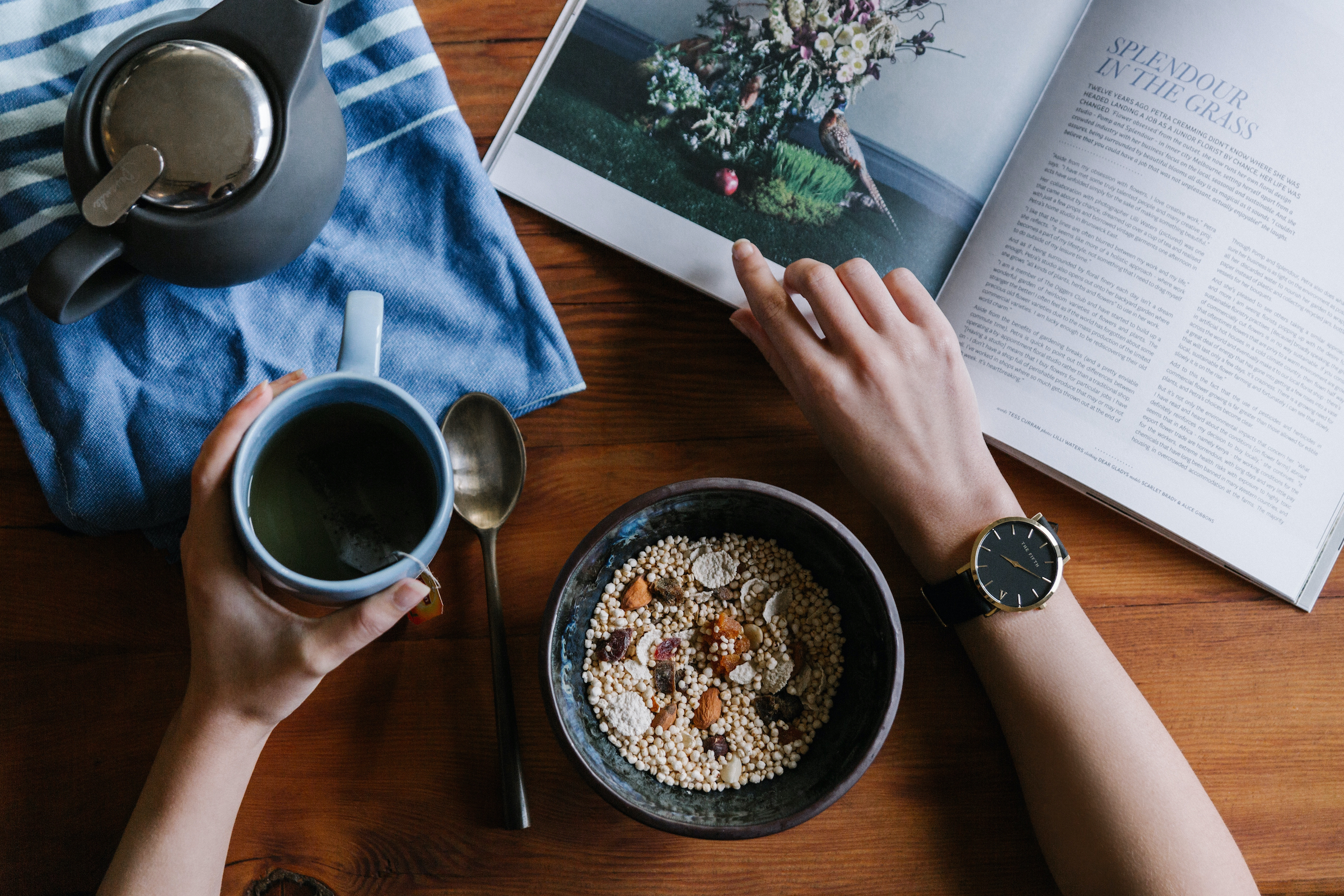 As well as taking care of your mental health during lockdown, it's equally important to stay on top of your physical wellbeing. With gyms closed and the daily commute cancelled for most of us, it can seem more difficult to stay active. However, there are plenty of ways you can keep your body moving. 
Get moving 
The hardest part about being active during lockdown is starting in the first place. The sofa looks extra inviting at these times, and the bed extra comfortable. But try and resist the temptation to spend all of your time there. In the UK, people can still get out and exercise during lockdown, so make sure to take advantage of that.  
Find a routine 
Now you've started being active, the key thing is to stick with it. The NHS and HSE recommends that adults aged 19 to 64 need to do at least 150 minutes of moderate-intensity activity a week. This includes being active every day and doing strengthening activities at least twice a week. 
So, what does 'moderate-intensity activity' look like? Well, things like brisk walking, riding a bike, dancing, and rollerblading all count. You can try and beat your daily steps target, follow a daily exercise YouTube channel, or try a couch to 5k program. 
Try yoga 
Yoga is good for the body and mind, and it's something that just about anyone can do. As well as burning calories and toning muscles, it gives you strength, flexibility, and an awareness of your mind and body. 
The YouTube channel Yoga With Adriene gives a wide range of exercises and workouts that can help set you on your way. 
Set yourself a challenge 
When it comes to fitness, gradual progress can lead to some pretty significant results. If you're thinking about how to stay healthy during lockdown, taking a fitness challenge could be exactly what you're looking for. 
There are some great ways you can challenge yourself from home, without the need for any extra equipment. Will you try and complete 100 press-ups in one go? Or is your aim to hold a plank for three minutes? 
These types of challenges are a great way of giving yourself regular, progressive exercise. You can see gradual progress, and have an end goal in sight. You can also challenge your friends and family to take up the challenge with you from their homes, keeping you connected and competitive. 
Maintain a healthy, balanced diet 
If you've been working from home, furloughed or on lay-off recently, you'll no doubt have noticed the benefits of having your own kitchen nearby at all times. You may find yourself eating more of all the wrong things, which, although comforting at the time, can be problematic.  
There are so many benefits associated with having a healthy and balanced diet. It's good for your heart, your bones, your immune system, and your mental health. So, maintaining a healthy diet during lockdown is something we should all think about.  
 Learn about healthy eating 
The term 'healthy and balanced diet' can sometimes seem like a difficult one to understand. We're often bombarded by messages and advertisements about food that seem to conflict each other, so how do we know what's healthy? 
Well, we can start by understanding the basics of nutrition. Learning about how what we eat impacts our bodies and minds is a good place to start. 
The NHS Eatwell Guide is also an excellent resource for understanding what a balanced diet looks like. It provides information about the types of foods we should include in our daily intake, and why they're important. There is also a full Healthy Eating and Active Living programme available from the HSE here.
If you want to dig a little deeper, you can take a course on topics such as the relationship between nutrition and wellbeing, and how to improve mental health through diet and nutrition. 
Keep hydrated 
One aspect of healthy eating that's sometimes overlooked is choosing healthy drinks for your daily routine. Keeping hydrated is essential for staying healthy, and it brings many other benefits besides. 
If you're exercising a lot, you'll want to make sure you're drinking plenty. Many activities can feel physically and mentally much more difficult without proper hydration. Similarly, without enough fluids, you're more likely to have a hard time concentrating and feeling alert. 
So, staying hydrated can prevent you from feeling physically and emotionally drained. But how much should you drink? According to the Eatwell Guide, you should aim for six to eight glasses of fluid a day. This includes things like water, tea, and coffee.  
Try a new recipe 
Cooking can be a great way to relax and try something new. If you're looking to put your newly found nutritional knowledge to the test, trying a new recipe is a great excuse. 
The BBC Good Food website has a wide selection of healthy recipes. You can even get creative with whatever ingredients you've got in the fridge. Experiment with new flavours, try a dish you've always wanted to, or cook up your restaurant favourites. 
Various studies have shown links between home cooking skills and healthy diets. So, once you're in the habit, you can maintain your healthy diet during lockdown and beyond.  
Reduce your alcohol intake 
A recent UK study found that around 21% of the alcohol drinkers they surveyed were drinking more during lockdown.  
Although it can seem like a way to escape the stress, in reality, alcohol causes more problems than it solves. For starters, it can interrupt your sleep patterns. So, although it may make you doze off quicker, it can prevent you from getting a restful night's sleep. 
There is also evidence that stress drinking can result in greater feelings of depression, anxiety, and low mood. So, it can be a good idea to limit how much you're drinking during lockdown. 
Government advice is that you shouldn't exceed more than 14 units per week, which equals around six or seven drinks. However, they also suggest you should have a few drink-free days each week. 
 Staying healthy is a habit  
Evidently, it's vital that we all take care of our physical and emotional health during this difficult time. In doing so, we're better placed to look after ourselves and others.  
With some simple changes to your daily routine, such as getting enough sleep, eating well, exercising, and keeping in touch with people, you can boost your mood and stay healthy. 
Your Safety
Sadly, the reported levels of domestic abuse have increased during the Covid-19 lockdown.
There are different kinds of abuse that can happen in different contexts. The most prevalent type of domestic abuse occurs in relationships. But the definition of domestic abuse also covers abuse between family members.
If you are affected or you are concerned for someone's welfare you can get up to date advice on the links below.
Twitter
#MakeYourselfHeard
#SilentSolution
MINI CHALLENGES
This week we have added healthy living based mini challenges. You could choose one or more from the list below.
Try to get 8 hours of sleep
Have a healthy breakfast every day within 1 hour of waking
Hit your 5 a day! Eat plenty of fruit and vegetables
Drink 1 litre of water a day
Get active – try to do 30 minutes of moderate activity every day
PODCAST
Looking for inspiration? Prevention has a great range of podcasts available covering health, wellbeing and more. Take a look here at 25 of their top Health and Fitness Podcasts.
BIODIVERSITY IN YOUR BACKYARD 
By Sylvia Thompson 
Backyard biodiversity: The garden guide to nature 
Learn how to identify flowers, butterflies and bees in #SpeciesADay campaign 
Full article available here.
Picture taken by Julie Whittle    Picture taken by Robert Burke 
With most families confined to their homes in efforts to curtail the spread of Covid-19, there has arguably never been a better time to observe and appreciate the natural world in our gardens or back yards – for those lucky enough to have them. 
Organisations including Birdwatch Ireland (birdwatchireland.ie) and the National Biodiversity Data Centre (biodiversityireland.ie) are witnessing increased traffic to their websites as people seek ways to identify the plants, insects and birds they've spotted at close quarters. 
In mid-March, the National Biodiversity Data Centre (NBDC) launched its #SpeciesADay social media campaign to encourage people to send photos of specified plants or insects each day on Twitter or Facebook. 
"People are looking for things to do, and the aim is to focus on the area around you. There is a captive audience in every sense of the word and you don't have to go to exotic places to see lots. You can simply walk around your garden," says Liam Lysaght, director of the NBDC. 
With tips on how to identify flowers, butterflies and bees, the campaign brings attention to our spring flowers and insect species, while encouraging people to record their sightings on the NBDC database. 
The NBDC's Butterfly Atlas project encourages the public to record butterfly sightings. The trick is to learn how to distinguish similar-looking butterflies. For example, the small tortoiseshell butterfly (orange with black spots and a black band with blue dots on the rim of its wings) is often confused with the comma butterfly (orange with black spots without a rim around its wings). 
And the holly blue, which flies high in the sky, could easily be confused with the common blue butterfly, which flies close to the ground and comes out a little later in April. 
Confined to his home in Co Kilkenny, Lysaght is documenting and sharing the wildlife he discovers in his own garden on his personal website, wildirelandtour.ie. "I'm doing this to keep myself sane too," he jokes. But his notes and photos of flowers and trees coming into bloom on the ground and in hedgerows will be a welcome distraction for many people. 
City gardens 
Wildlife expert and author of Wild Dublin (O'Brien Press), Éanna Ní Lamhna says that people can make their own fun outdoors no matter how small their garden. "You can look under stones and flower pots to find insects and you can build a habitat for ants, earwigs and spiders with dead wood, sticks and stones. Being outdoors, without earphones in, cultivates a sense of living in the moment, being quiet and noticing things," she says. 
You can also become adept at finding things you wouldn't usually see in your garden by putting a sheet of paper under a hedge and then shaking it to see what insects fall out of it. Or, by sweeping a fishing net through vegetation or close to an outdoor light at nighttime, to discover moths and bugs. 
And, don't forget to look up and watch the different trees as they come into leaf. "The horse chestnut is the first big tree to come into leaf," explains Ní Lamhna. Depending on which part of the country you live in, trees come into bud at different times and it can also vary from year to year, depending on the weather. It might be a nice task for children to identify the trees in their garden and then note down when each of them comes into bud. 
For example, elder, hawthorn and hazel are some of the first smaller trees to come into bud, usually in March, while birch, crab apple, alder and rowen usually come into leaf in April. Oak and ash trees are the last trees to come into bud. 
As the morning and evenings become brighter, it is also a great time to listen to and watch the birds during nest building and while they are incubating their eggs. 
"April is a great time to hear lots of birds singing as they are building their nests and marking their territory," says Niall Hatch of Birdwatch Ireland. 
Hatch encourages people to watch birds even from their windows. "You can spot them building their nests as they carry sticks and bits of grass, or feeding their chicks as they carry food in their beaks," he says. Blackbirds, bluetits and robins nest in pairs while crows and sparrows nest in colonies so you'll see larger groups of them around," explains Hatch. 
April is also the month when swallows and house martins arrive in Ireland. "House martins will build their nests from mud under the eaves of houses while the swallows will build them with mud and grass in open sheds, barns or in porches," explains Hatch. 
Birdwatch Ireland is also keen for people to report their first sightings of swallows and cuckoos on the Springalive.net website. "People can also follow the tracks of birds across Africa through the Mediterranean and to Ireland on this website too," says Hatch. 
And while the countrywide early-morning gatherings organised by Birdwatch Ireland to celebrate the dawn chorus won't happen this year, you can always do so yourself by getting up early – or heading out at dusk – to listen to the rich variety of bird song. "Even in the cities, you will hear wrens, robins and blackbirds," says Ní Lamhna who encourages people to record bird song on their phones and try to identify the common birds later.  
In her book, Wild Dublin, she reminds us that about half of all bird species recorded in Ireland makes their home in the capital city. 
Download the garden checklist
For those new to nature observation, the Backyard Biodiversity recording sheets (downloadable on biodiversityireland.ie) with 20 easily identifiable species in rural and urban gardens is a good place to start. There's no rush but once you have spotted the different butterflies, bugs, bees, beetles, ladybirds, spiders, newts, worms, frogs and various birds, you can then learn how to become a recorder of Ireland's biodiversity with plenty of tips on how to submit sightings and view your records on biodiversityireland.ie. 
USEFUL LINKS
With so much information out there, here are some that have been suggested that might help you…..
The best meditation and mindfulness apps to help you de-stress and stay calm 
Mindfulness is a technique anyone can try to help calm their mind - and it can help to manage depression, anxiety and stress according to mental health charity Mind. This can be beneficial if you are working from home or dealing with furlough / lay-off. 
Here's our pick of some of the best. 
Calm - Meditation and Sleep  
One of the most popular meditation apps on the market, Calm's library of audio content helps users to tackle stress, anxiety, insomnia and depression. 
Its most popular feature is a 10-minute meditation called The Daily Calm, which explores a new mindful theme each day. 
The Calm app is free to download but you'll need a paid subscription to Calm Premium (£29.99 a year) to make the most of it.  
Headspace: Meditation & Sleep 
There are more than 100 hours of guided practices to choose from, tailored to everything from managing stress and anxiety to improving sleep. 
You can give it a try with its free Basics pack, a 10-day beginner's course that guides you through the essentials of meditation and mindfulness.  
After that, a subscription costs £9.99 a month or £49.99 a year. 
Stop Breathe & Think 
This app is centred around three simple principles: encouraging users to Stop and check in with what they are thinking and feeling; Breathe, in a mindful way to create space between your thoughts, emotions and reactions; and Think, with personalised meditations and activities that broaden your perspective.  
Oak - Meditation & Breathing  
Oak offers guided meditation practices ranging from five to 30 minutes in length. 
You can choose to sit in silence or listen to a soothing background track - think bells, streams and other gentle sounds.
It also teaches you simple yogic breathing exercises that can easily be performed on-the-go, as well as ones that can help you drift off to sleep. 
The app is free to download, and most features are included, but you can pay for optional courses too. 
Lumosity Mind 
An offshoot of brain training app Lumosity, this new app promises clear and approachable mindfulness practices. 
It features daily meditations based on your interests and experience that can help you relax, focus or improve your attention. 
There are also guided courses like Cultivating Kindness and Inviting Sleep to explore.