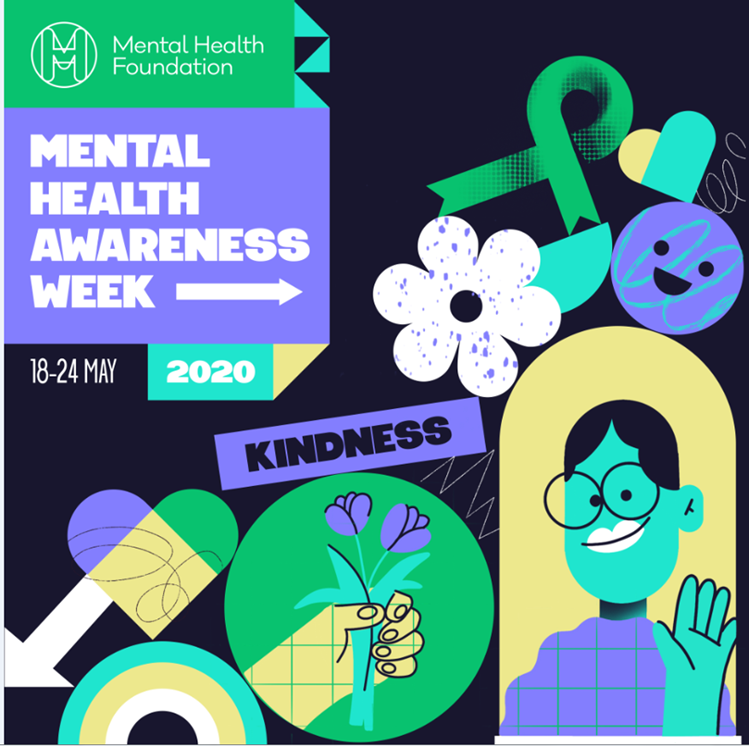 The Mental Health Foundation works to prevent mental health problems.
"We will drive change towards a mentally healthy society for all, and support communities, families and individuals to live mentally healthier lives, with a particular focus on those at greatest risk".
The Mental Health Foundation is the home of Mental Health Awareness Week. Take a look at their website for more information on the work that they do here.
Mental health problems can affect anyone, at any time. The Mental Health Foundation believe that mental health is everyone's business. So, for one week each May, they campaign around a specific theme for Mental Health Awareness Week. Since their first Mental Health Awareness Week in 2001, they have raised awareness of topics like body image, stress and relationships. Hundreds of schools, businesses and communities have started conversations around mental health that can change and even save lives. The campaign reaches millions of people every year. If you would like to donate, you can do so online here.
The coronavirus (COVID-19) outbreak means that life is changing for all of us for a while. It may cause you to feel anxious, stressed, worried, sad, bored, lonely or frustrated.
It's important to remember it is OK to feel this way and that everyone reacts differently. Remember, this situation is temporary and, for most of us, these difficult feelings will pass.
This year the focus is on kindness,72% of UK adults say it's important we learn from the Coronavirus pandemic to be more kind as a society. So, what can we do to promote kindness?
Here are some ideas to get you started……
You will get more of what you focus on. Pay attention to whether you are noticing the faults of others or their acts of kindness. Adjust your focus to align with the values you want to promote.

Model acts of kindness. Help all those you can. When you notice others, who seem to be behaving in a hurtful way, take a breath and wish them well instead of judging them.

Create a "Ways to be Helpful" book. Take photos of the kind acts you see in your family and school (holding a door open, cleaning your space, doing chores). Bind them in a book for reflection.

Record acts of kindness. Take turns being the "kindness recorder." For every act of kindness you see or experience, put a heart in a basket or an artificial flower in a pot. Share some of the kind acts at dinner or bedtime.

Play kindness charades. Family members can act out the kindness they have received from others. The observers can try to guess who the helpful person was.

Write notes of kindness. As you express your appreciation to others, be specific about what they did and how it helped you. Leave letters around the house, on pillows, in lunchboxes, and in the car.
Please remember the tips below:
Keep others in mind - Although carrying out good deeds for other people can make you feel good, don't forget to keep in mind why you're doing it – for their benefit not yours.
Don't overdo it - If you find that you are giving too much of yourself or have gone beyond your personal resources, think about taking a step back. We recommend starting small so that you don't become overwhelmed or give more than you are emotionally or in other ways able to give.
For more support and guidance on mental health, take a look at the wide range of resources available below:
Share your 'kindness' 
Reflect on an act of kindness, perhaps one of the ideas above and share your stories and pictures (with permission) of kindness during the week using #KindnessMatters and #MentalHealthAwarenessWeek 
Share your ideas on how you think we could build a kinder society that would support our mental health using #KindnessMatters and #MentalHealthAwarenessWeek 
You can tag the Mental Health Organisation across social media – They would love to see what you get up to:  
Facebook: @mentalhealthfoundation  
Twitter: @mentalhealth  
Instagram: @mentalhealthfoundation 
Social media graphics that you can add to your posts can be found here 
You can also share your posts with us via HGB.Communications@swissport.com
Mindfulness and wellbeing are a vital part of coping during the Covid-19 outbreak. There is a wealth of information online to support you but knowing where to start can be confusing. Please check the current advice from HSE.ie and the NHS to help you during this time.
Your Safety
Sadly, the reported levels of domestic abuse have increased during the Covid-19 lockdown.
There are different kinds of abuse that can happen in different contexts. The most prevalent type of domestic abuse occurs in relationships. But the definition of domestic abuse also covers abuse between family members.
If you are affected or you are concerned for someone's welfare you can get up to date advice on the links below.
Twitter
#MakeYourselfHeard
#SilentSolution
MINI CHALLENGES
This week we have tried to add acts of kindness as part of your weekly mini challenge. You could choose one or more from the list below.
Call a friend that you haven't spoken to for a while
Send an inspirational quote to a friend
Tell someone you know that you are proud of them
Tell a family member how much you love and appreciate them
PODCAST
LVI Founder, Orly Wahba, discusses the magic of kindness at TED.
Get a peek at Life Vest Inside Founder, Orly Wahba's cross country speaking tour with her Best Selling Book, Kindness Boomerang! Take a look here. 
USEFUL LINKS
With so much information out there, here are some that have been suggested that might help you…..
The best meditation and mindfulness apps to help you de-stress and stay calm  
Mindfulness is a technique anyone can try to help calm their mind - and it can help to manage depression, anxiety and stress according to mental health charity Mind. This can be beneficial if you are working from home or dealing with furlough / lay-off.
Here's our pick of some of the best. 
Calm - Meditation and Sleep  
One of the most popular meditation apps on the market, Calm's library of audio content helps users to tackle stress, anxiety, insomnia and depression.  
Its most popular feature is a 10-minute meditation called The Daily Calm, which explores a new mindful theme each day. 
The Calm app is free to download but you'll need a paid subscription to Calm Premium (£29.99 a year) to make the most of it.  
Headspace: Meditation & Sleep 
There are more than 100 hours of guided practices to choose from, tailored to everything from managing stress and anxiety to improving sleep. 
You can give it a try with its free Basics pack, a 10-day beginner's course that guides you through the essentials of meditation and mindfulness.  
After that, a subscription costs £9.99 a month or £49.99 a year. 
Stop Breathe & Think  
This app is centred around three simple principles: encouraging users to Stop and check in with what they are thinking and feeling; Breathe, in a mindful way to create space between your thoughts, emotions and reactions; and Think, with personalised meditations and activities that broaden your perspective.  
Oak - Meditation & Breathing  
Oak offers guided meditation practices ranging from five to 30 minutes in length. You can choose to sit in silence or listen to a soothing background track - think bells, streams and other gentle sounds. It also teaches you simple yogic breathing exercises that can easily be performed on-the-go, as well as ones that can help you drift off to sleep.  
The app is free to download, and most features are included, but you can pay for optional courses too. 
Lumosity Mind  
An offshoot of brain training app Lumosity, this new app promises clear and approachable mindfulness practices. It features daily meditations based on your interests and experience that can help you relax, focus or improve your attention. There are also guided courses like Cultivating Kindness and Inviting Sleep to explore.