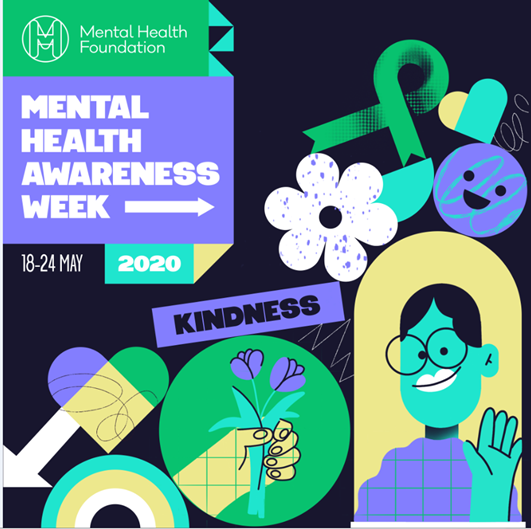 Mental health is everyone's business. We all have times when we feel down or stressed or frightened. Most of the time those feelings pass. But sometimes they develop into a more serious problem and that could happen to any one of us. Everyone is different. You may bounce back from a setback while someone else may feel weighed down by it for a long time. 
Your mental health doesn't always stay the same. It can change as circumstances change and as you move through different stages of your life. There's a stigma attached to mental health problems. This means that people feel uncomfortable about them and don't talk about them much. Many people don't even feel comfortable talking about their feelings. But it's healthy to know and say how you're feeling. 
Mental Health Awareness Week is the national week to raise awareness of mental health and mental health problems and inspire action to promote the message of good mental health for all.  
The theme for 2020 is 'kindness'.  
Kindness unlocks our shared humanity and is central for our mental health. It has the potential to bring us together with benefits for everyone, particularly at times of great stress. One thing we have seen all over the world is that kindness is prevailing in uncertain times, helping people to connect and communities to cope with the impact of the coronavirus pandemic. We have also seen a number of examples from within the Swissport family through volunteering to help the emergency services and colleagues.  There are also other ways to get involved:
Reflect on an act of kindness. Share your stories and pictures of kindness during the week using #KindnessMatters and #MentalHealthAwarenessWeek
Share your ideas on how you think we could build a kinder society that would support our mental health using #KindnessMatters and #MentalHealthAwarenessWeek
You can tag the Mental Health Organisation across social media – They would love to see what you get up to:  
Facebook: @mentalhealthfoundation  
Twitter: @mentalhealth  
Instagram: @mentalhealthfoundation 
Social media graphics that you can add to your posts can be found here 
For more guidance on the work of the Mental Health Organisation and to find details of any support available please follow this here. 
Whilst Governments are starting to communicate the next steps to climbing out of lockdown there are still limits to what we can do whilst on furlough, lay-off or, at the end of a working day. This can lead to increased feelings of stress and anxiety. 
We are taking this opportunity to share some activities to try that will not only help you take better care of your mental health, but help you bounce back following this unusual and challenging time. 
The following actions and activities depend on what you feel able to do and the resources you have available. Whatever you choose to do should be achievable. It's important to remember that this situation is difficult and worrying for many - it's okay to do what you need to, and what you feel is best for your emotional wellbeing.   
Depending on your mobility level and what you feel comfortable doing, there are many recreational physical activities you can do indoors or outdoors, including: Running, cycling, yoga and online workouts. However not all recreation activities have to revolve around exercise! 
Here are a few other options but, we would also welcome your ideas to share in future editions:
New Skills and Hobbies: 
The Open University have many free courses on a wide range of topics from introductory to advanced levels. Such topics include History, Languages, Money and Business, Nature and Environment.  This may also be an opportunity to re visit an old hobby that you have had limited time for OR start a new one.  
Youtube has a wealth of tutorial videos covering everything from knitting, baking, gardening, sewing and painting.  
Technology - BT have teamed up with ITV to bring you a series of videos to help guide you and your family learn about different technologies and how to get the most out of them. 
Drawing- Skill Share offers a variety of free drawing classes where you can learn to sketch, shade and introduce colour into a variety of objects from vegetables to mermaids. 
Podcasts: 
Podcasts can be an effective medium to learn from. Especially when you want to give your eyes a rest from screens. A variety of podcasts can be found at: 
Oxford University podcasts- a series of podcasts categorised into the different schools and institutes within Oxford University, ranging from the African study centre to the Women in science and engineering. 
BBC podcasts- the Forum- offers to help you discover world history, culture and ideas with today's leading experts. 
Spotify has both free and paid for subscriptions and on both you have access to podcasts, the podcasts on Spotify vary from society and culture to business and technology. 
Dr Chatterjee The Feel Better, Live More' podcast has grown rapidly to become the Number 1 health podcast in the UK. 
 However you decide to spend your time, it's important to remember that you should never feel obligated to do something, and should avoid being too hard on yourself if you don't accomplish what you planned. During such a challenging time, the best thing you can do is be kind to yourself. 
Mindfulness and wellbeing are a vital part of coping during the Covid-19 outbreak. There is a wealth of information online to support you but knowing where to start can be confusing. Please check the current advice from HSE.ie and the NHS to help you during this time.
Your Safety
Sadly, the reported levels of domestic abuse have increased during the Covid-19 lockdown.
There are different kinds of abuse that can happen in different contexts. The most prevalent type of domestic abuse occurs in relationships. But the definition of domestic abuse also covers abuse between family members.
If you are affected or you are concerned for someone's welfare you can get up to date advice on the links below.
Twitter
#MakeYourselfHeard
#SilentSolution
MINI CHALLENGES
Why not set yourself a mindfulness or wellbeing challenge this week? You could choose one or more from the list below.
Choose a book or audio book to read / listen too
Go to bed 30 minutes earlier
Play a boardgame in person with family or virtually
Have one less cup of coffee or tea a day
Pick up the phone and call a friend / family member
PODCAST
The Mental Health Ireland have published a range of great podcasts to support your mental health, covering a range of topics. Take a look here.
USEFUL LINKS
With so much information out there, here are some that have been suggested that might help you…..
The best meditation and mindfulness apps to help you de-stress and stay calm 
Mindfulness is a technique anyone can try to help calm their mind - and it can help to manage depression, anxiety and stress according to mental health charity Mind. This can be beneficial if you are working from home or dealing with furlough / lay-off.
Here's our pick of some of the best. 
Calm - Meditation and Sleep  
One of the most popular meditation apps on the market, Calm's library of audio content helps users to tackle stress, anxiety, insomnia and depression.  
Its most popular feature is a 10-minute meditation called The Daily Calm, which explores a new mindful theme each day. 
The Calm app is free to download but you'll need a paid subscription to Calm Premium (£29.99 a year) to make the most of it. 
Headspace: Meditation & Sleep 
There are more than 100 hours of guided practices to choose from, tailored to everything from managing stress and anxiety to improving sleep. 
You can give it a try with its free Basics pack, a 10-day beginner's course that guides you through the essentials of meditation and mindfulness.  
After that, a subscription costs £9.99 a month or £49.99 a year. 
Stop Breathe & Think 
 This app is centred around three simple principles: encouraging users to Stop and check in with what they are thinking and feeling; Breathe, in a mindful way to create space between your thoughts, emotions and reactions; and Think, with personalised meditations and activities that broaden your perspective.  
Oak - Meditation & Breathing   
Oak offers guided meditation practices ranging from five to 30 minutes in length. 
You can choose to sit in silence or listen to a soothing background track - think bells, streams and other gentle sounds. 
It also teaches you simple yogic breathing exercises that can easily be performed on-the-go, as well as ones that can help you drift off to sleep. 
The app is free to download, and most features are included, but you can pay for optional courses too. 
Lumosity Mind  
An offshoot of brain training app Lumosity, this new app promises clear and approachable mindfulness practices.  
It features daily meditations based on your interests and experience that can help you relax, focus or improve your attention.  
There are also guided courses like Cultivating Kindness and Inviting Sleep to explore.