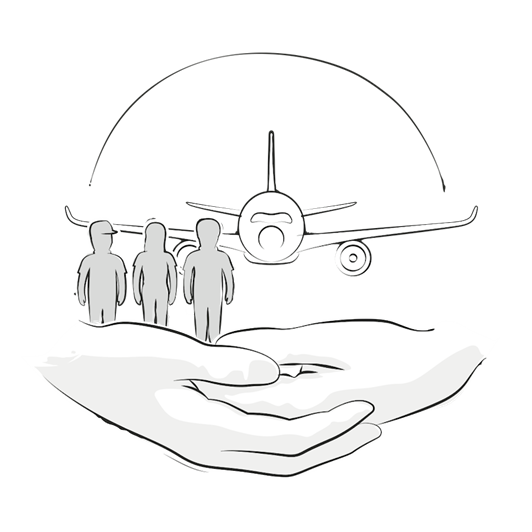 The following are some tips for coping while at home through furlough, lay-off or while working:
Structure and boundaries: When working from home it is important to establish structure and boundaries to remain efficient and so you can concentrate. It is also important for you to be able to switch off and 'finish' work at a reasonable time so you can maintain a sense of balance. If you are not working, having a structure that factors in time to focus on a range of activities such as exercise, a project or personal development can help you maintain wellbeing and keep you occupied.
Social interaction is very important for both working from home and during a period of furlough or lay-off. When the ability to interact is suddenly gone, your need for it is not. There are many video platforms available such as Zoom, Skype, WebEx, and Slack among others. Use them when you can to keep in touch with friends and colleagues.
Ask for help: In a typical workplace setting, when you are stuck on something, you can always check in with your co-workers to brainstorm about a solution. Working from home may create the feeling of having to solve every problem on your own. This increases the feelings of isolation and decreases efficiency. You can still ask for help, pick up the phone or Skype / use Teams to discuss with your colleagues. The same applies for those of you who are off work, if you need help please speak to someone. Remember the Employee Assistance Program is available to all Swissport employees who are off or working from home.
Flexibility: Take advantage of the flexibility that working from home offers—throw in a load of laundry in between meetings or take a break to play with the kids as a reward for them letting you work uninterrupted or just take a mental health break.
Staying focused: Even in normal times it's not easy to stay focused on work for long periods of time. During the time of COVID-19, it is even more tempting to keep looking online or listening to the radio for the latest developments. Unfortunately, this is likely to reduce your productivity and increase anxiety. In order to stay informed without getting stuck, schedule a 15-minute news check for yourself twice a day—once in the morning and once in the evening.
Take breaks: Be sure to schedule those mental health breaks—time for lunch, and shorter 10- to 15-minute breaks throughout the day to take a walk, meditate, breathe, or just move your muscles. This applies to everyone, if you are not working from home it's easy to fall out of a routine and as well and your wellbeing (physical and mental) is just as important!
Accept and manage interruptions: If you are working from home and have children, having a plan will help reduce chaos but will not eliminate interruptions. Kids are kids, after all.
Wind down: Once your workday is over, give yourself permission to step away and actually be done. Take stock of what went well throughout the day and what you might want to do differently tomorrow. Spend time with your family and have time to wind down and get some sleep.
Mindfulness and wellbeing are a vital part of coping during the Covid-19 outbreak. There is a wealth of information online to support you but knowing where to start can be confusing. Please check the current advice from HSE.ie and the NHS to help you during this time.
Working from home with a family
If you're working from home with children, it can be difficult to find balance and feel productive. You can speak to your Line Manager or the HR team about flexibility and if it's possible to work different hours. But remember, it's important for you to not overstretch yourself and take care of your own mental wellbeing.
Find a suitable place to work while being close to your children to supervise them. Having a set workspace helps all the family to know you're working. Take regular breaks to rest and relax. Whilst it's important to have routine and structure, be prepared to adapt and be flexible to suit your family needs.
One of the biggest challenges can be supervising children appropriately. Some older children can be left on their own but younger children and babies cannot. When your children need you, take time off and return to your tasks later. Give yourself permission to take care of your family and don't feel guilty for doing so.
The NSPCC have a range of tips and guidance available to support parents when working from home here.
Your Safety
Sadly, the reported levels of domestic abuse have increased during the Covid-19 lockdown.
There are different kinds of abuse that can happen in different contexts. The most prevalent type of domestic abuse occurs in relationships. But the definition of domestic abuse also covers abuse between family members.
If you are affected or you are concerned for someone's welfare you can get up to date advice on the links below.
Twitter
#MakeYourselfHeard
#SilentSolution
MINI CHALLENGES
Why not set yourself a mindfulness or wellbeing challenge this week? You could choose one or more from the list below.
Spend 5 minutes cleaning your workspace, car, home or garden every day
Wake up 30 minutes earlier and do something productive
Set a goal, write it down, post it where it is visible, and do it every day
Track your daily spending
Pick up the phone and call a friend / family member
PODCAST
The Mental Health Org have published a podcast on nutrition and wellbeing. Whether you are on furlough, lay-off or working from home, nutrition is an important part of safeguarding your wellbeing. Take a look here.
USEFUL LINKS
With so much information out there, here are some that have been suggested that might help you…..
The best meditation and mindfulness apps to help you de-stress and stay calm 
Mindfulness is a technique anyone can try to help calm their mind - and it can help to manage depression, anxiety and stress according to mental health charity Mind. This can be beneficial if you are working from home or dealing with furlough / lay-off. 
Here's our pick of some of the best. 
Calm - Meditation and Sleep  
One of the most popular meditation apps on the market, Calm's library of audio content helps users to tackle stress, anxiety, insomnia and depression.  
Its most popular feature is a 10-minute meditation called The Daily Calm, which explores a new mindful theme each day. 
The Calm app is free to download but you'll need a paid subscription to Calm Premium (£29.99 a year) to make the most of it.  
Headspace: Meditation & Sleep 
There are more than 100 hours of guided practices to choose from, tailored to everything from managing stress and anxiety to improving sleep.
You can give it a try with its free Basics pack, a 10-day beginner's course that guides you through the essentials of meditation and mindfulness. 
After that, a subscription costs £9.99 a month or £49.99 a year. 
Stop Breathe & Think 
This app is centred around three simple principles: encouraging users to Stop and check in with what they are thinking and feeling; Breathe, in a mindful way to create space between your thoughts, emotions and reactions; and Think, with personalised meditations and activities that broaden your perspective.  
Oak - Meditation & Breathing  
Oak offers guided meditation practices ranging from five to 30 minutes in length. 
You can choose to sit in silence or listen to a soothing background track - think bells, streams and other gentle sounds. 
It also teaches you simple yogic breathing exercises that can easily be performed on-the-go, as well as ones that can help you drift off to sleep. 
The app is free to download, and most features are included, but you can pay for optional courses too. 
Lumosity Mind  
An offshoot of brain training app Lumosity, this new app promises clear and approachable mindfulness practices. 
It features daily meditations based on your interests and experience that can help you relax, focus or improve your attention. 
There are also guided courses like Cultivating Kindness and Inviting Sleep to explore.