We have now been for the most part in some form of isolation for a few weeks now and as the Government in both the UK and Ireland have stated these restrictions are not likely to be raised just yet. These unprecedented circumstances take their toll on our mental and physical wellbeing, something we have touched on in previous editions of Swissport Click.
Now more than ever, understanding our wellbeing and what we can do to improve it for ourselves and our loved ones is so important.
This week we are focusing on mindfulness and wellbeing and how we can create a state of being healthy and happy during these challenging times.
MINDFULNESS AND WELLBEING
Mindfulness and wellbeing are a vital part of coping during the Covid-19 outbreak. There is a wealth of information online to support you but knowing where to start can be confusing. We have taken advice from HSE.ie and the NHS to bring together some key points to help you during this time.
The spread of Covid-19 will change everyone's lives in some way and some people will find it more worrying than others. With regular updates from medical, scientific, public health experts and Governments it can be challenging to maintain a sense of normality and this can take its toll on your wellbeing.
You may notice some of the following:
Increased anxiety
Feeling stressed
Finding yourself excessively checking symptoms, in yourself or others
becoming irritable more easily
feeling insecure or unsettled
fearing that normal aches and pains might be the virus
having trouble sleeping
feeling helpless or a lack of control
How to mind your mental health and wellbeing during this time
Evidence suggests there are a number of key steps you can take to improve your mental health and wellbeing. Trying these things could help you feel more positive and able to get cope with the current challenges of Covid-19.
Stay informed but set limits for news and social media
The constant stream of social media updates and news reports about coronavirus could cause you to feel worried. Sometimes it can be difficult to separate facts from rumours. Use trustworthy and reliable sources to get your news.
On social media, people may talk about their own worries or beliefs. You don't need to make them your own. Too much time on social media may increase your worry and levels of anxiety. Consider limiting how much time you spend on social media.
If you find the coverage on coronavirus is too intense for you, talk it through with someone close or get support.
Keep healthy routines and be physically active:
Being active is not only great for your physical health and fitness. Evidence also shows it can also improve your mental wellbeing by:
raising your self-esteem
helping you to set goals or challenges and achieve them
causing chemical changes in your brain which can help to positively change your mood
Your routine may be affected by the coronavirus outbreak in different ways. But during difficult times like this, it's best if you can keep some structure in your day. Take a look at edition 2 of Swissport Click for ides on how to stay active at home.
It's important to pay attention to your needs and feelings, especially during times of stress. You may still be able to do some of the things you enjoy and find relaxing.
For example, you could try to:
exercise regularly
maintain a healthy, balanced diet
avoid excess alcohol
practice relaxation techniques such as breathing exercises
read a book
search for online exercise or yoga classes, concerts, religious services or guided tours
Keeping Connected
Good relationships are important for your mental wellbeing. They can:
help you to build a sense of belonging and self-worth
give you an opportunity to share positive experiences
provide emotional support and allow you to support others
There are lots of things you could try to help build stronger and closer relationships:
If possible, take time each day to be with your family, for example, try arranging a fixed time to eat dinner together
try switching off the TV to talk or play a game
call a friend or family member who needs support or company
make the most of technology to stay in touch with friends and family. Video-chat apps like Skype and FaceTime are useful, especially if you live far apart
During times of stress, friends and families can be a good source of support. It is important to keep in touch with them and other people in your life.
If you need to restrict your movements or self-isolate / cocoon, try to stay connected to people in other ways, for example:
e-mail
social media
video calls
phone calls
text messages
Many video calling apps allow you to have video calls with multiple people at the same time.
Remember that talking things through with someone can help lessen worry or anxiety. You don't have to appear to be strong or to try to cope with things by yourself.
Learn new skills
Research shows that learning new skills can also improve your mental wellbeing by:
boosting self-confidence and raising self-esteem
helping you to build a sense of purpose
helping you to connect with others
Even if you feel like you do not have enough time, or you may not need to learn new things, there are lots of different ways to bring learning into your life.
Some of the things you could try include:
work on a DIY project, such as fixing a broken bike, garden gate or something bigger. There are lots of free video tutorials online
try learning to cook something new
consider signing up for a course at a local college. You could try learning a new language or a practical skill – take a look at our Personal Development section of Swissport Click
try new hobbies that challenge you, such as writing a blog, taking up a new sport or learning to paint
Kindness & Volunteering
Research suggests that acts of giving and kindness can help improve your mental wellbeing by:
creating positive feelings and a sense of reward
giving you a feeling of purpose and self-worth
helping you connect with other people
It could be small acts of kindness towards other people, or larger ones like volunteering in your local community.
Maureen and her husband George from our EDI lounge are using their furlough time to make hospital scrubs. They have seen such a demand that the pair have enlisted the help of two people to assist them. In addition, the EDI lounge team have been donating to the cause so that the materials can be bought to make this happen. Look at the link below to see how you could get involved: https://www.fortheloveofscrubs.scot/
Or you could try making these carry bags and headbands that allow the masks used by the frontline workers to be fitted to the buttons preventing rubbing. Her is an example from Denise Williams, Team EMA who has been making them for the NHS. There are lots of opportunities to get involved and help with the Covid-19 response.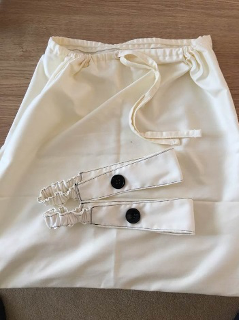 MINDFULNESS
It can be easy to rush through life without stopping to notice much.
Paying more attention to the present moment – to your own thoughts and feelings, and to the world around you – can improve your mental wellbeing.
You can check your mood using this simple mood self-assessment quiz.
Some people call this awareness "mindfulness". Mindfulness can help us enjoy life more and understand ourselves better. You can take steps to develop it in your own life.
What is mindfulness?
Professor Mark Williams, former director of the Oxford Mindfulness Centre, says that mindfulness means knowing directly what is going on inside and outside ourselves, moment by moment.
"It's easy to stop noticing the world around us. It's also easy to lose touch with the way our bodies are feeling and to end up living 'in our heads' – caught up in our thoughts without stopping to notice how those thoughts are driving our emotions and behaviour," he says.
"An important part of mindfulness is reconnecting with our bodies and the sensations they experience. This means waking up to the sights, sounds, smells and tastes of the present moment. That might be something as simple as the feel of a banister as we walk upstairs.
"Another important part of mindfulness is an awareness of our thoughts and feelings as they happen moment to moment.
"It's about allowing ourselves to see the present moment clearly. When we do that, it can positively change the way we see ourselves and our lives."
How mindfulness helps mental wellbeing
Becoming more aware of the present moment can help us enjoy the world around us more and understand ourselves better.
When we become more aware of the present moment, we begin to experience afresh things that we have been taking for granted.
"Mindfulness also allows us to become more aware of the stream of thoughts and feelings that we experience," says Professor Williams, "and to see how we can become entangled in that stream in ways that are not helpful.
"This lets us stand back from our thoughts and start to see their patterns. Gradually, we can train ourselves to notice when our thoughts are taking over and realise that thoughts are simply 'mental events' that do not have to control us.
"Most of us have issues that we find hard to let go and mindfulness can help us deal with them more productively. We can ask: 'Is trying to solve this by brooding about it helpful, or am I just getting caught up in my thoughts?'
"Awareness of this kind also helps us notice signs of stress or anxiety earlier and helps us deal with them better."
Mindfulness is recommended by the National Institute for Health and Care Excellence (NICE) as a way to prevent depression in people who have had 3 or more bouts of depression in the past.
How to be more mindful
Reminding yourself to take notice of your thoughts, feelings, body sensations and the world around you is the first step to mindfulness.
Notice the everyday
"Even as we go about our daily lives, we can notice the sensations of things, the food we eat, the air moving past the body as we walk," says Professor Williams. "All this may sound very small, but it has huge power to interrupt the 'autopilot' mode we often engage day to day, and to give us new perspectives on life."
Keep it regular
It can be helpful to pick a regular time – the morning journey to work or a walk at lunchtime – during which you decide to be aware of the sensations created by the world around you.
Try something new
Trying new things, such as sitting in a different seat in meetings or going somewhere new for lunch, can also help you notice the world in a new way.
Watch your thoughts
"Some people find it very difficult to practice mindfulness. As soon as they stop what they're doing, lots of thoughts and worries crowd in," says Professor Williams.
"It might be useful to remember that mindfulness isn't about making these thoughts go away, but rather about seeing them as mental events.
"Imagine standing at a bus station and seeing 'thought buses' coming and going without having to get on them and be taken away. This can be very hard at first, but with gentle persistence it is possible.
"Some people find that it is easier to cope with an over-busy mind if they are doing gentle yoga or walking."
Name thoughts and feelings
To develop an awareness of thoughts and feelings, some people find it helpful to silently name them: "Here's the thought that I might fail that exam". Or, "This is anxiety".
Free yourself from the past and future
You can practise mindfulness anywhere, but it can be especially helpful to take a mindful approach if you realise that, for several minutes, you have been "trapped" in reliving past problems or "pre-living" future worries.
Different mindfulness practices
As well as practising mindfulness in daily life, it can be helpful to set aside time for a more formal mindfulness practice.
Mindfulness meditation involves sitting silently and paying attention to thoughts, sounds, the sensations of breathing or parts of the body, bringing your attention back whenever the mind starts to wander.
Yoga and tai-chi can also help with developing awareness of your breathing.
Information:
You can watch this short mindful breathing exercise video on YouTube from Every Mind Matters.
Be Mindful is an online course for reducing stress, anxiety and depression.
Is mindfulness helpful for everyone?
"Mindfulness isn't the answer to everything, and it's important that our enthusiasm doesn't run ahead of the evidence," says Professor Williams.
"There's encouraging evidence for its use in health, education, prisons and workplaces, but it's important to realise that research is still going on in all of these fields. Once we have the results, we'll be able to see more clearly who mindfulness is most helpful for."
Source – NHS Wellbeing
MINI CHALLENGES
Why not set yourself a mindfulness or wellbeing challenge this week? You could choose one or more from the list below.
Talk to someone instead of sending an email or text
Do some 'easy exercise', like stretching
Have a 'clear the clutter' day
Do a crossword or Sudoku
Research something you've always wondered about
You can try this mini mindfulness challenge here or try:
PODCAST
The Mental Health Org have published a podcast on stress and the mind: a quick-fix relaxation exercise.
This podcast presented by Dr David Peters has some quick relaxation and breathing exercises which you can do anywhere to help clear your mind, reduce stress, and improve your mental health. Take a look here.
USEFUL LINKS
With so much information out there, here are some that have been suggested that might help you…..
Young people's mental health during the coronavirus pandemic
Older people's mental health during the coronavirus pandemic
Find mental health supports and services that can help during COVID-19 outbreak
The mental health charity Mind also offer information about the 5 ways to wellbeing.