Peanut Butter and Chocolate Cookies by Holly Luker SOU Training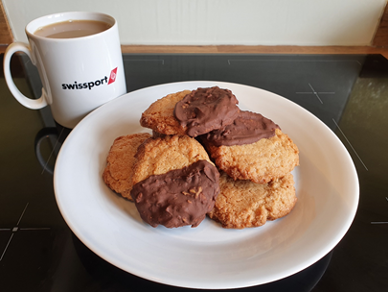 Serves 12 approx. 
Ingredients  
200g Chunky Peanut Butter (Smooth also works)175g Golden Caster Sugar 
¼ teaspoon everyday salt1 Large Egg 
200g bar of your favourite chocolate broken*Water 
*I used Butlers Dark Chocolate with Salted Caramel for extra indulgence 
Equipment 
Large mixing bowl
Wooden Spoons 
2 Baking trays
Greaseproof paper 
Metal spoons
Small pot/tub 
Wire cooling racks
Saucepan 
Small heat proof bowl wider than the saucepan 
Method 
Heat the oven to 180c/160c fan/Gas 4

Line the baking trays with the greaseproof paper

Place into the large bowl the peanut butter, sugar, salt and mix into a paste like consistency

Crack the egg into a small pot to avoid shell going to the mix, then add this to the large bowl of ingredients, mix together until the mixture forms a soft dough.

Scoop off spoon sized chunks of the dough and place on to the baking trays spaced apart. Press the cookie mix down slightly with the back of the spoon.

Bake for approx. 12 minutes until the edges turn golden brown with a paler centre.

Cool on the baking trays for 10 minutes once removed from the oven, then transfer onto wire racks to completely cool.
To melt the chocolate:
Whilst the cookies are cooling, put a small amount of water into the saucepan allow to simmer about ¼ of the way up the pan. Place the heat proof dish into the saucepan.

Add the chocolate pieces, stirring occasionally until melted. (or melt the chocolate in a microwave)

Once the cookies have cooled – spread the chocolate using the metal spoon onto one half of each cookie. Feel free to use the chocolate to design your cookies as you wish.

Allow to chill in the fridge until set.

Enjoy with a good cup of coffee!