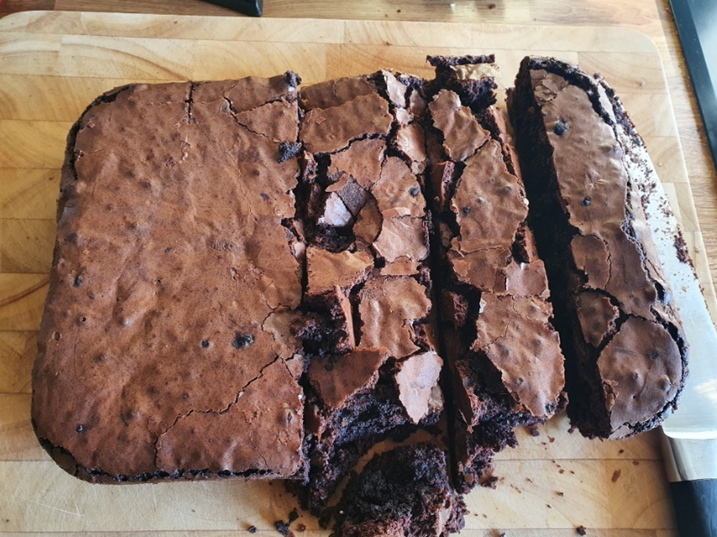 Ingredients 
250g unsalted butter and a little extra for the tin

 

250g dark or milk chocolate broken into pieces

 

4 large eggs

 

300g golden caster sugar

 

½ tsp vanilla extract or paste

 

100g gluten-free plain flour, sieved

 

60g cocoa powder

 

½ tsp fine sea salt

 

150g chocolate chips

 
Equipment 
Saucepan

 

Heat proof bowl slightly bigger than the saucepan

 

Mixer or whisk and a bowl

 

Baking tin 30x20cm

 

Baking paper

 

Wooden spoons x2

 
Method 
Heat oven to 180C/160C fan/gas 4. 
Lightly grease the tin with butter all over the inside and line the base with baking paper. 
Fill the saucepan a third full with water, bring to a simmer and put the heatproof bowl on top of it. Place in the bowl the butter and chocolate and gently melt, stirring occasionally over a low heat. Remove from the heat and leave to cool a little. 
Mix the eggs and sugar together using the mixer or whisk for 8-10 mins until thick enough to leave a trail behind. Carefully fold through the now cooled melted chocolate and add the vanilla, flour, cocoa and salt.  
Evenly mix the chocolate chips throughout the batter and pour the brownie mix into the tin, place in the centre of the oven and bake for 30-35 mins. Test the brownie is cooked by placing a cocktail stick into the centre – if it comes out clean, they are cooked. The sides of the brownie should be firm and cooked well 
Leave to cool in the tin before cutting into 12 squares. 
I like to serve this with fresh raspberries and whipped cream. 
Tip: If you are making this for a neighbour or friend as a treat and you are unsure if the product you are using is Gluten Free, you can check all nearly all ingredient's at www.coeliac.org.uk using the food and drink link.