Award Winning Chocolate Marshmallow Cake  
Submitted by Robert Burke Regional Training Services Manager South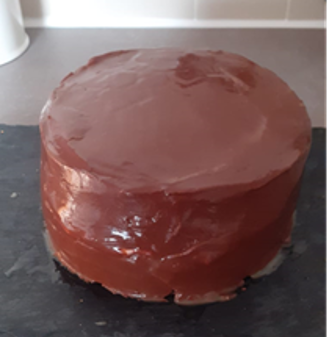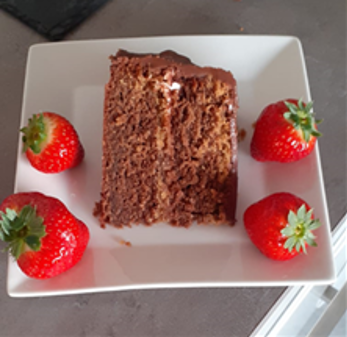 This cake serves 8 – 10 people and is best made the day before you plan on eating it, giving it plenty of time to allow the glaze to set fully. Allow plenty of time for all of the steps to take place and when placing the cakes together if it is possible, get  someone to help you as it can get quite slippy as the heat melts the marshmallow centre. This recipe won 1st prize in my local village fayre three years running (2013 – 2015), I was always asked to make it for village fundraising events where cake stalls were held. It became a firm favourite in the village.  
If you are looking to make a nut free the Walnuts can be missed out and it won't make any difference to the overall cake, the coconut can also be easily left out. If you want to change the overall flavour try using a flavoured hot chocolate, for example Whittards' Peanut butter, or Whittards' Raspberry Ripple or you can use a White Hot Chocolate powder.  
| | |
| --- | --- |
| Cake  | Equipment   |
| 350g Soft Margarine   | 2 x 23cm Cake Tins   |
| 90g Finely Chopped Walnut  | 4 Large Skewers   |
| 60g Rich Tea Biscuits – Finely Crushed  | Baking Parchment   |
| 165g Light Soft Brown Sugar  | Medium Saucepan  |
| 215g Self-Raising Flour  | Small heat proof Mixing Bowl  |
| 200g Caster Sugar  | Electric Whisk     |
| 30g Coco Powder  | Chocolate Glaze  |
| ¼ Teaspoon of Baking Powder  | 225g Broken Plain Chocolate   |
| 4 Eggs  | 45g Butter  |
| 100g Desiccated Coconut  | 3 Tablespoons of Water   |
| 75g Mini Marshmallows  | 3 Tablespoons of Icing Sugar   |
Preheat your oven to 180C / 350F / Gas 4  
Grease and line both cake tins bases 
Crush biscuits using blender or in a freezer bag using a rolling pin 
Melt 120g of butter over a low heat in the saucepan  
Remove from heat and mix in biscuit crumbs and walnuts and brown sugar  
Divide the crumbed mixture equally in to the two tins and pat down to make a base, place in fridge to assist the setting for 10 minutes 
Using a mixer or electric whisk beat Flour, Caster Sugar, Coco Powder, Baking Powder, Eggs, Coconut and remaining Margarine together, beat for 1 minute 
Spoon the mixtures evenly in to the two cake tins 
Bake for approximately 30 minutes – Check the cake by inserting a skewer into the cake and pulling it out, if it is clean the cake is ready  
Remove the 1st cake from the tin and place on a cooling rack with this biscuit base facing up 
Evenly place the Marshmallows on the biscuit 
Immediately place the second cake biscuit side facing down sandwiching the marshmallow centre  
Using the 4 skewers secure the two cakes together to prevent the top cake slipping whilst the marshmallows melt 
Cool the cake then place in the refrigerator until completely cool  
After about 60 minutes start to prepare the glaze  
Using a small bowl placed over a simmering pan place the chocolate, butter and water, 
Melt the contents till smooth stir constantly 
Remove the bowl from the heat and allow to cool to room temperature  
Sift in the icing sugar and beat with a spoon 
Beat until the glaze has a spreading consistency 
Remove skewers from the cake and spread the glaze over the top and sides of the cake 
Using a metal pallet knife you can get a reflective shine on the glaze.  
The cake can be served with fresh strawberries, cream or ice cream or just perfect on its own.   
Enjoy this devilishly tasty cake with a glass of Prosecco or Sparkling Non-Alcoholic White Wine! 
Why not try a virtual coffee morning? Grab a cuppa and a slice of cake and use Skype, Teams or WhatsApp to video call friends and catch up?