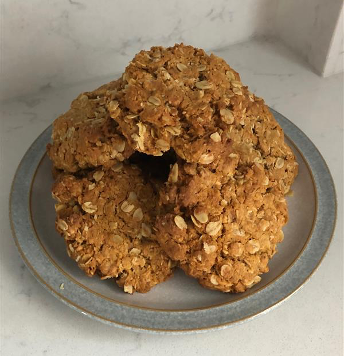 These classic Australian and New Zealand Biscuits are the perfect biscuit from Down Under, if you don't like your biscuits to sweet, then only use half a cup of sugar, and if you like them a little more crunchy leave them in the oven a little longer.
Ingredients:
1 cup oats
1 cup desiccated coconut
1 cup flour
1 cup sugar
125 g butter
2 Tbsp golden syrup
1 tsp baking soda
2 Tbsp boiling water
Method:
Preheat oven to 180°C. Lightly grease a baking tray or line with baking paper.
Combine the oats, coconut, flour, and sugar together in a large bowl.
Melt the butter and golden syrup together. Dissolve the baking soda in the boiling water and add to the butter mixture. Pour the butter mixture into the dry ingredients and mix together.
Roll teaspoons into balls and place on the tray, allowing room for them to spread.
Bake for 12-15 minutes, cooking one tray at a time.