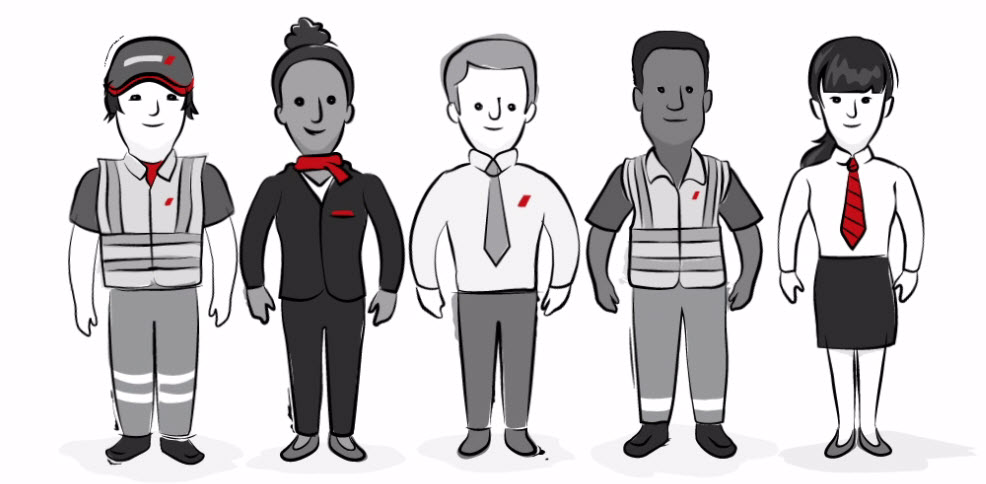 Everyone is dealing with the current situation differently and during this time, sharing our experiences can be a great way of gaining perspective and finding new ways of coping. Your wellbeing, both physical and mental is so important and we hope that by reading how your colleagues are facing these challenges may be of comfort and inspiration. Thank you to those who have shared their stories through "A day in the life" this week, and if you would like to share your story in a future edition, please get in touch.
A DAY IN THE LIFE.... 
Lisa Patchett – HR/Payroll Administrator BFS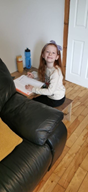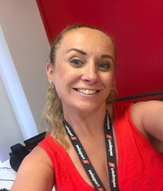 8th June 2020 
Well what can I say about a day in the life of "Me" 
I am married to Neil Patchett who also works for Swissport in MT at Belfast International and is currently off on furlough. We have two children aged 13 and 8 who are at home due to school closures. 
On 23rd March 2020 I began to work from home due to the Global Pandemic. Firstly I thought to myself, happy days this is great getting to work from home, crawl out of bed at 0845 in my PJ's and turn the lap top on, no school runs to do, no need to worry about what I am going to wear, make up to put on and making packed lunches but boy was I wrong! 
So it started off as I thought it would, but the reality of it all wasn't long hitting home. 
Home schooling is not an easy job to do.  I hold my hands up to the teachers and it doesn't help when I am not the most patient person in the world.  There's been shouting, tantrums, tears…and that's just from me lol…..needless to say a few vinos were required!!!   
This is in between working at the kitchen table, trying to keep trackers for all staff being put onto furlough, sending out all relevant documentation, answering numerous emails from worried staff who were wondering if and when they would get paid, dealing with pay queries because none of us really knew at the time how furlough pay was worked out, staff asking why others are getting more money than them and being on the same contract, so this was a very difficult time but we got there. 
The endless dishes and cooking…..I'd swear my kids kept saying they were hungry just because I was in the kitchen all the time.  
To top off this normal daily life, my Mother suffers severe Arthritis from her shoulders down and is waiting on a shoulder replacement at the moment.  She lives alone and was advised by to self isolate for 12 weeks as she was classed as high risk.  With not getting out she found her pains getting worse and was ceasing up, resulting in being bed ridden for a few weeks.  Therefore, in between working from home, cooking, cleaning and home schooling I have to make time to take care of Mum, ensuring she has food, medications at hand and a little exercise done. 
Yes I have a husband at home which helps me get time to see my Mum but as for home schooling, cooking and cleaning "properly" he wouldn't be the best 😊  
Anyway, I am back at the office now and so glad of the break from home life.  Neil is at home still on furlough so I am not stressing anymore on home schooling, they will do what they can, and I am sure he can manage some kind of food for the kids lol……the thoughts of the kids being off for a further 3 months will finish me, anyway, take care, stay safe, bye bye xx 
Day in the Life – Jonathan Vibert, Station Manager Jersey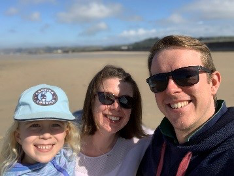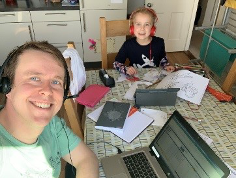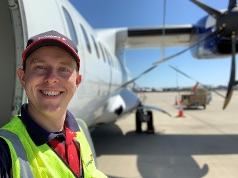 Hello - I'm Jonathan, Station Manager down in Jersey, Channel Islands. If you're not too sure where that is, then it's the warmest, and most southern part of the British Isles!! 
The role of Station Manager here has always been slightly different from that of the United Kingdom; the fact the island is a Crown dependency, the Island governs itself whilst being owned by the British Crown, meaning that parts of my job include researching the impact and looking into local legislation. (This isn't just an article, but a history lesson too!) 
Being an island, we have maintained a few life-line air links with the UK through our locally based airline, BlueIslands, and this has kept our station operating during this pandemic. I've always tried to lead from the front and even more so now being 'at the sharp end' of our operation. My role currently extends from checking in the passengers, gating, and dispatching the flight, then meeting the return and cleaning the aircraft; all with the aid of a couple of staff who continue to support our operation. 
Though the island is only 9 miles by 5 miles, people aren't always running in to each other. I keep in touch with my colleagues and staff through various means; I have increased the frequency of our local newsletter to share updates, and we have had a couple of virtual coffee mornings to keep in touch with each other. Some people across Western Europe may know me for my postings on Yammer, and this continues to be a constructive tool to share what we are doing on station with the wider network (so if you aren't already…….then do follow me!) 
A lot of my colleagues here in Jersey have been stood down during these difficult times, and I've aimed to maintain the same standard of service they expect from the Station Management and Admin team during normal operations; so along with my operational involvement I've been running our admin, HR and payroll in conjunction with the UK support teams. I've been fortunate enough to be able to work from home when we had limited flying, and the kitchen table became my new office – this meant sharing with my 6-year old during home schooling! 
My day varies on the flying programme, but I'm fortunate to have an active young family, with my wife (a Nurse) and our six year old daughter, so we will often go for a cycle or a long walk around some of the amazing landscapes we have that surround our island. 
My passion has always been in aviation, and my involvement as Ground Ops and Communications Liaison for the Jersey International Air Display has been turned on its head. With the past 14 years of service on the committee, we are having to 'rip-up' the normal planned operations and start from scratch, as many organisations are at this challenging time.  
The main thing from all of this however is that we stay safe, look after our loved ones and enjoy what we do. 
Take care everyone 😊 
Julie Cook - Glasgow Airport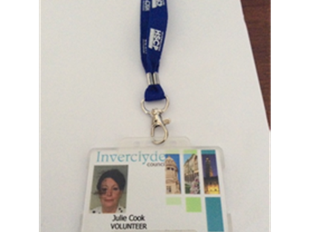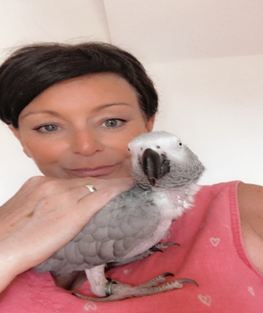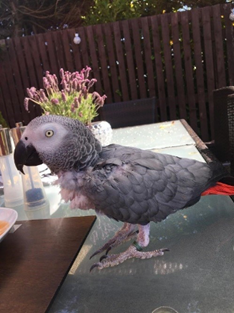 Hi everyone, I hope you are all well and happy? I am Julie Cook and I am based at Glasgow airport and I am part of the busy hard-working administration team, this year marked my 20-year service with Swissport and hopefully there are many years to follow. 
Who could have predicted that 2020 would pan our like this? not even  Nostradamus could have seen what this year had in store for us all but all we can do is obey the rules do our bit and hopefully come out of this with a new zest for "normal" life, I look forward to returning to work in the near future and catching up with all my colleagues again. 
Life has certainly changed for us here for sure, as lock down approached, I did wonder what I would do with myself, but I have taken on 2 tasks 
Task one the first being that I signed up to a call for help from our local council who send out a request for volunteers to come forward as emergency support workers the criteria was for people with caring / nursing experience to assist their Health & Social Care department who were at crisis point due to staff shortages as many where either sick, self-isolating or shielding, it has been many years since I last worked in this field but felt I had something to offer so after a whirlwind training programme and accelerated PVG application I was out in the community as a home support worker for the elderly, disabled and vulnerable people who relied entirely on the service every day of their lives, its not full time I do approx. 29-30 hrs per week but as the saying goes " every little helps" 
To say its hard work is an understatement it's a huge responsibility, physically demanding and some aspects are just heart-breaking, ensuring you administer medication correctly and that you give the person all the support they need to the very best of your ability can be daunting but once I got into it I enjoy it & I can honestly say it one of the most rewarding things I have ever done & just to see the difference you can make to someone's day makes the hard work all worthwhile, yes I could have just decided to stay home and redecorate my house or give our garden an overhaul but some things are much more important thant home perfection. 
Task 2 is a lighter load, just prior to the lock down we relented to pressure from a relative who knowing I am an animal lover and would give in to take onboard a sad and neglected 13 year old African grey parrot, not to go into fine detail her previous owner had passed away and the remaining family had little or no interest in the bird so she was left locked in her cage with no interaction and become withdrawn and had resorted to feather plucking to the point she had no chest feathers at all. 
On finishing my working week, we waited for my relative to bring the little bird to us and so the task of being "parents" to this little parrot began….. 
What a poor site she was scruffy depressed and a little bit baldy, all was going ok just settling into life with us she remained quiet & withdrawn and she still had the whiff of a 20 a day smoker! slowly we spoke to her and slowly she responded but we did feel guilty leaving her for our Monday to Friday 9-5 jobs each day……then Lockdown! Since then I have had much more time at home to work with her,  we have renamed Baby, everyday she started to talk more and more the whistles came back the chattering got more frequent, she responded to a little head scratch then onto my hand & shoulder and would happily perch there as I wandered round the house doing daily tasks, the talking was by now flowing freely and this is where it started we discovered our lovely little parrot has a broad vocabulary and is thee most potty mouthed parrot ever,  once she got started she really hasn't stopped, funny yes but having to explain to the neighbours that it's not us shouting to each other its actually Baby, this took a little convincing, just the other evening my husband gave her a cashew nut as a treat and as he walked away from her she shouted out a common and much more rude name for your rear end ( I will leave you to guess!) this is mild as sometime a full sentence of expletives come tumbling out at full volume we do try not to laugh as this just encourages her yes we are happy that she is happy but what to do with the potty mouth remains a mystery to us. 
The latest update as of June 1st 14 weeks after her arrival  Baby is now one very happy & pampered parrot who loves a cuddle and head scratch she spends 75% of her day up on the open perch on her cage surveying life, or scaling down and running around until she finds me before climbing up my leg to rest on my shoulder, she especially loves sitting in the garden with us much to the neighbours delight she puts on her vocal show for all to hear, they think it's hilarious! Thankfully she has stopped feather plucking so hopefully all the feathers will grow back in time she has learned quite a few tricks and some new "acceptable" words. 
As for the potty mouth ………. we live in hope! 
Stay safe and take care 
Julie 
x 
Day in the Life – Denise Williams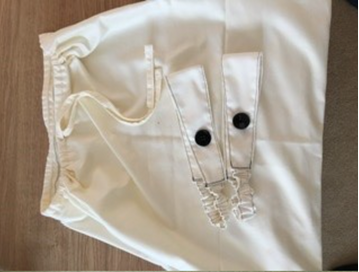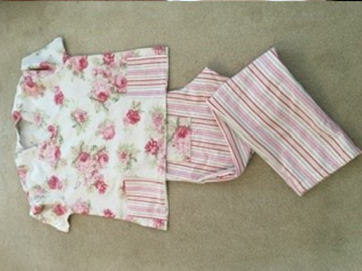 As the front of house trainer at EMA my day used to be filled with planning, organising and delivering training either in a classroom or on a one to one. I was surrounded by people and no two days were the same.  And then came lockdown and furlough.  
I knew that I would have to have a structure to my day as I am very target driven person both in my professional life as well as at home.  So, I decided to set myself targets for each day. It may be a job in the garden, such as planting, painting the fence or putting up bamboo and cane fencing. It may be walking our dog Charlie for an hour or a certain distance. It could also be completing one of my sewing projects that have been sitting in my workroom for a couple of years with every good intention of doing them but never having the time!  
After watching a news story about an amazing group of sewers I decided to take part in a country wide initiative to help our NHS and care homes by making PPE.  I joined a Facebook group called For the Love of Scrubs and started by making scrubs bags and headbands and then progressed onto making scrubs.  It was such a joy to be doing something that I loved whilst knowing that someone would be able to stay safe as a result. Not only did I achieve daily targets, but I also contributed to something very worthwhile. Thankfully the need for the scrubs has been reduced and the local NHS has been overwhelmed by contributions, so we have stopped.  I have now moved on to making face coverings for friends and neighbours. 
As furlough moves on, I continue to set my daily targets, weight loss, exercise, making an outfit or craft project. I look back on each day and feel achieved having reached my daily targets.  Despite the reason for the furlough, I am one of the lucky ones who has really enjoyed this gift of time.   
Life in the furloughed lane - Brian Gee, Supervisor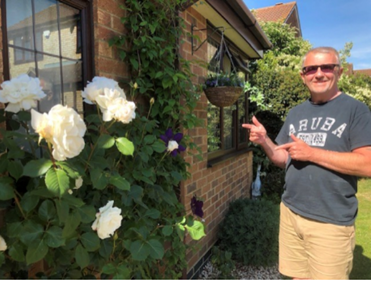 ASPIRE LOUNGE LTN  
As Big Ben struck midnight on New Year's Eve the country celebrated the beginning of a new decade 2020 was here, Brexit was due to finally happen, VE day would be marked in the traditional British way full of pomp and splendour fly pasts, street parties, marching bands all very colourful us Brits at our best then the Euro's in June with the final at Wembley. Further east the Olympic Games would take place in Japan all in all a great year to look forward to. 
From a work perspective we had received confirmation that our lounge refurbishment was to commence at the end of January giving us a brand-new facility to welcome the usual influx of holidaymakers and travellers through Luton over Easter and the hectic summer period. 
Work commenced on schedule and staff were deployed across the airport while the army of tradesman plied their trade with the opening date of the 5th April on everyone's minds, the mood was positive good times lay ahead. 
It was during January that news began to seep slowly at first that a situation was developing in the Chinese city of Wuhan a new Coronavirus had emerged from a wet market that had begun to infect residents of that city, at this stage the mainstream media were not giving it headline priority given the never ending saga of Brexit 
Slowly the story gained momentum, cruise ships were getting affected brits were stranded at sea cases were rapidly increasing across China, media were suddenly interested but not to worry it was something happening along way from us how wrong we all were. 
The end of January saw cases of Covid-19 begin to be reported in various parts of the world The USA, Singapore, France, Australia and Canada to name a few, people were now starting to realise that something serious was happening and this was intensified by the news that on the 31 January the UK reported it's first case coincidentally the same day Italy also declared its first case. 
The airline industry was already beginning to feel the effects countries began to close borders, flights were being cancelled and for the first time our work status given the industry we work in was being discussed. We all know how fast the situation developed across February and March countries going into lockdown and the question of when not if we would follow here in the UK 
It was towards the end of March that staff were informed that due to the severity of the situation work on the refurbishment of the lounge was being halted until further notice and that all of us were advised that we would be temporarily laid off. This was the moment for me personally that the situation became very real – It would get worse! 
Shortly after this the Prime Minister announced the country would go into lockdown for a minimum of 3 weeks and all the rules and regulations around the directive, this was now very real things we all took for granted were stopped those who could work from home were told to do so not practical for the lounge staff unfortunately, families were suddenly separated unable to visit no hugs, cuddles with grandchildren or mums and dads, financial worries focused minds, worries over long term job security came to the fore 
Daily press conferences were convened new terminology was presented, Social Distancing, The R word and then from Rishi Sunak the Chancellor the word all of us were delighted to hear 'Furlough' a new one to me I must admit but one I was keen to explore 
After digesting the concept, the sense of relief was palpable the government was to pay 80% of our salary till the end of June even those who didn't vote Conservative must have greeted the announcement with a deep breath and a slice of humble pie 
So this was it I am furloughed till further notice, initially my mind filled with dread having the boredom threshold probably around 1% what was I going to do all day, on day one my wife Lorraine suggested I painted the inside of the shed it needed doing so the scene was set, the weather was good so brush in hand I was off, well little did I know that 8 weeks or so later not only is the shed finished both inside and out but so are all 10 fence panels 
During late March my eldest daughter Sarah's husband Nick was admitted to hospital and was diagnosed was Covid-19 which sent a tremor through our household, if there was ever a time when you need to be with Sarah and Matilda our granddaughter it was now but we couldn't it was hard very hard she was advised he had to go on a ventilator and spent the next 9 days incubated and fighting for his life a truly horrible time and your life gets put into perspective at times like that 
On day 10 the clouds parted his strength and determination had pulled him through many tears flowed Face Time was full of little Matilda's smiles and 'Daddy's coming Home' messages 
The care and devotion to duty of the NHS staff who looked after Nick will never be forgotten and is sent with heartfelt thanks to all of you  
Furlough continues, my daily routine usually starts with the luxury of the alarm button not going off at 2.30 am a quick bowl of cereal rediscovered Coco Pops after many years followed by 20 minutes on an exercise bike, I got from Amazon for £40  
The weather has been really good during this period so any job I can find outdoors suits me down to the ground. I am lucky enough to have a garden which is a blessing it must be so tough for those who don't, I even made some scones which I enjoyed but don't worry Mary Berry your job is safe 
My youngest daughter Kirsty has been working from home helping supply the NHS with doctors & nurses during lockdown so the chance to spend good quality family time has been a plus just wish we could extend it to include all but patience is a virtue  
I have discovered Zoom which I thought was an Ice Lolly for any one under 30 it was a triple flavoured lolly and very nice  
Nature has taken care of my roots so the reopening of hairdressers is not a concern, we have ample supplies of toiletries and I even got some self-raising flour from a farm shop 
How long we will be in this situation is anyone's guess but for now I am just grateful to have good health and the knowledge that my family are safe and well 
In closing can I say stay safe, stay well and look after those around you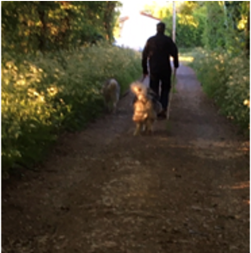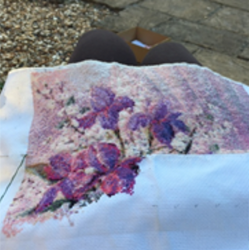 Brian 
Ieva, Training Coordinator at Bristol Airport 
My name is Ieva and I am working as Training Coordinator at Bristol airport. 
I was so happy to read the stories of my SWISSPORT colleagues who are still working probably 80% as usual and have those projects and plans to complete. 
I feel that my Project 'My  family' has been my priority these last two months: 
Cooking healthier ( even though I probably would look like those famous people on a Bake off with few disasters in a kitchen) and actually being able to have a meals together with my hubby; 
Be more outside  than ever:  our garden has become our Gym and our best buddy Frisbee is keeping us active every day! Have to say our little personal record of 133 throws is making me proud, very proud.
Spending so much more quality time with my boys: I am proud Fur Mama to our 3 malamutes. They appreciate and cherish playtime more than ever. Evening walkies were the highlight of the day when we could go out only once for exercise.  
For me it was double special as through the fields and saying hello to a few cows I could wave and say hello to those lovely aircrafts and silently hope that we are one day closer to get back to work.....I do miss my work and my work family 😇 
Knowing first-hand how hard it is for someone with anxiety and depression to go through this pandemic...the constant battle with your mind can be exhausting. So I see myself as little Mrs Sunshine, who will support and help and be there for the loved one. Listening and understanding that, even when we both have a bad day, there is always something positive to look out for tomorrow. 
Of course I am using this opportunity finally to have a time to get back to my hobby, cross stitch - a present for my Mama which I  started last year....my, oh my, how much more I can do now when i have that precious thing - TIME. 
I heard a lot previously that so many things can't be done because of NO TIME🤔 
I think this pandemic kinda forced us to find more time for each other, find new things to learn or get back to, find those little moments  - to lay down on the grass and watch those clouds playing with each other - these moments are precious. 
May this time allows us all to reflect on what it is that makes us happy and try not to lose it with those excuses.  
From my family to yours - stay safe and try to find those happy moments ❤️ 
James McGovern - HR Business Partner
 "Being a HR business partner involves working with a variety of people which makes my job far from boring and allows me to be challenged, problem solve and above all strive towards swissport being the place to be for all"
HOW DID YOU GET INTO CAREER AS HRBP?
I started my HR career as a HR clerical assistant with Glasgow City Council back in October 2001. Back then it was 'Personnel' not HR and I was given the opportunity to work in various departments within Personnel including Payroll, Recruitment, Training and general personnel which provided the invaluable development I needed to progress my career further.  From Glasgow city council I moved to Amazon as a HR Advisor which also allowed an opportunity to be seconded into a role of HR Business Partner for 6 months and gave me invaluable experience working at this level and gaining breadth of knowledge of all the HR disciplines.
WHAT ARE THE KEY RESPONSIBILITIES OF YOUR ROLE?
As a Business Partner the main aim is to partner with the business on the various people related plans and business objectives by working hand in hand with key stakeholders and colleagues.  
DESCRIBE A TYPICAL DAY AS A HR BUSINESS PARTNER AT SWISSPORT
No two days are the same in HR, one day you could be working on a Tupe of individuals coming into Swissport from another business and the next day involved in a complex grievance.  The key to any HR role is data and metrics and being a huge organisation can sometimes be a challenge to keep up to date given every minute there are changes. 
WHAT MOTIVATES ME TO COME TO WORK EVERY DAY?
Working with a variety of people from different backgrounds brings different challenges but overall provides development opportunities and further progresses my key skills.  I go home at night exhausted most days however if I have made an impact to at least one person or key business objective then I am happy.
WHAT ARE YOUR HOBBIES OUTSIDE OF WORK?
I love music!  I used to be a Hospital Radio and local radio presenter and also worked as a DJ as part of a wedding band (No I wasn't the wedding singer!).  I now have 2 children that are my hobbies (well take up the time I would have spent on hobbies 😊).
Dan Jones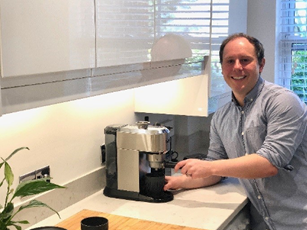 A typical day in the life has changed quite a lot for me, prior to the lock down I would be travelling around the Swissport Network most weeks, or be working from the HCH Offices at Heathrow Cargo, where I am normally based.  Since lockdown I haven't been out of a 5 km radius of our house and have been making the most of a slightly different pace to life.    
Each morning starts with some form of exercise, usually an online Hiit Class from Joe Wicks, but I have been looking for more interesting exercise classes recently on Youtube and have started trying out the Cirque du Soleil exercise regime which is very intense!   
I am usually at the laptop around 8:30, and as we had only moved to the UK from Australia five months prior to Covid all of our furniture is still in a shipping container in Brisbane!  That means that my husband and I swap between working from the kitchen and the living room during the day.   Being Australians good coffee is always the top of the list, and so at around 10ish, one of us will get the coffee machine going, will grind fresh beans and make us both a flat white and if I have baked over the weekend a little biscuit to go with it! 
My day is made up of a mixture of calls, emails, and working on an overhaul of our recruitment processes to ensure that they meet any new social distancing requirements that may be introduced.  If the weather is nice I will sit outside and take call's on the phone, alternatively I will work out of the house for the day. 
After work I always make the most of getting outside, and go for a walk, to get some sunshine.  In the evening, it's a case of a tasty home-made meal and usually a glass of nice Australian wine to wash it down with. 
Tony Roberts - GM Cargo Operational Services UK & Ireland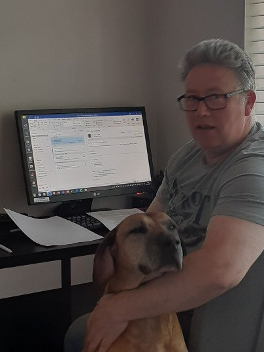 Its 06:45, 21st April and I feel the wet nose of my Rhodesian Ridgeback "Ruben" against my face letting me know it's Breakfast Time. First Tea of the day and time to check my overnight emails and the BBC news. Good Old President Trump….  
My office is at LGW although I travel and work a lot of the time from LHR, but today I'm working from home to support the lock down and help keep everyone safe. The day starts with addressing emails on emerging issues and solutions in Cargo, Security, Quality, Customs and Transit movements, which is interspersed with calls for the more pressing items and to discuss upcoming projects. Today we have transit movement query letters from CCTO to be addressed, Customs approvals to be signed and issues with the CCTV Tech Refresh in MAN, EMA and GLA to be addressed. The CAA are also request updates to a Non-Site Screening Protocol for 2 x helicopters due into STN and our plans to screen and make the cargo secure outside our warehouse footprint. This is interrupted by two planned Skype calls and action points on the Climb Back project and Customs Bond authorisations for FedEx in BFS before stopping for lunch around 13:30… Phew! 
With lunch done, Tuna & Mayo (Yummy) and Ruben watching every bite, its back to the emails before picking up on the outstanding tasks surrounding the CCTV Data protection Impact assessment and the supporting SOP. A review and calls with QHSE on the latest HIRA on Temp Screening Passengers. Then onto other projects which are on hold as well as looking into new opportunities in Cargo and GH Operation Support. I continue to work on SOP/SMP solutions and review draft documents as an AVSec Secure email comes in for review and distribution, then an email from the MHRA on the Pharmaceutical Supply Chain. These regulatory emails need immediate review, impact assessment and distribution for obvious reasons. 
Quickly the clock moves round to 5pm and its time to start bringing the day to an end, final emails and calls are made and the laptop finally gets turned off at 5:30pm. Ruben wagging his tail and ready for his walk in the late afternoon sun. Allowing me time to unwind and reflect on the day's decisions and achievements.  
I continue to monitor the emails and potential calls throughout the evening from a security perspective in support of my furloughed Security Managers and lights out at 23:30hrs.
That's today done – how was yours?  
Tony     
Mark Dallimore – Regional General Manager North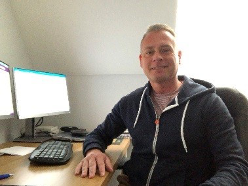 The last 4 weeks have certainly been a challenge! I gone from travelling four days a week spending lots of time on Aircraft and in hotels to being home every day, which has been a struggled to get into a routine and spend so much time on my own.  
The routine now is alarm, get up then breakfast whilst I review what is on the plan workwise for today. Despite the drop-in flights the workload has remained high with projects and the focus on keeping our costs as tight as possible.  
As a region we have increased the communication as we adapt to our new ways of working.  Lot more of our communication is less work based as we look out for each other.  We have been using the leadership lab format to discuss problems and last week held a good session about the climb back plan when this situation is over.   
Outside work I have set myself some challenges to improve my fitness and eating habits. I have been achieving x4 10k runs each week so far and planning to try and make the 50k target this week. Mentally it's really helped getting out for the hour and enjoying the countryside and the good weather!  
 After a healthy dinner, the focus becomes family and friends. Living alone, this period of isolation is taking its toll so the important of keeping in touch with people via Facetime and Zoom is massive for me. My Dad is suffering from pancreatic cancer so not being able to see him in person has been tough but as a family we make contact daily and have introduced a Yatzee competition between us which he is currently winning!  
 I can't wait for the alarm to ring at 0300, drive to Bristol to catch EasyJet to one of my North Stations and see my team again.   
 Mark   
Ray O'Mahony – Airside Operations Manager, Cork.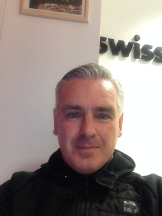 Like others, I am finding this situation we are in very strange indeed. What looked likely to be a very busy summer programme for us with new airlines and routes and the difficulty in trying to source new recruits – it's now disheartening to arrive into a completely empty terminal each day. 
The start of my day has remained the same. I have a 19-year-old son with special needs and the minute there is daylight he is up and on his computer. He watches movies clips or the credits of movies on YouTube and repeats them constantly – so I am normally woken by the sound of anything from Peppa pig in German, French, English or the whole cast of something like Ocean's 11 being repeated over and over again. He's like my own Dustin Hoffman's version of Rainman. So, at the moment I'm normally up between 5:00am – 6:00am. 
Breakfast for me is porridge followed by a cup of tea while I scroll through my phone reading the news before showering and head off to work. I am the only one on station at the moment so there are a number of items to catch up on for all departments. Couple of big projects happening in Cork at the moment with a new HBS system being installed and runway remedial works also happening so I have a few meetings to attend (normally via Skype these days) and I update our customer airlines once these meetings are over. We only have a few flights each week, so I pay a quick visit to Ops and the ramp and ensure everything is in order. What normally takes me an hour to get home because of traffic can easily be done in less than 20 minutes which is great. I find that I have found the love of cooking again as I have a lot more time to do this. 
Once dinner is over and weather permitting, I spend an hour practising hurling with my daughter Robyn. For those of you that are not familiar with this – it's a field game where 15 players on each team run around like lunatics hitting a ball (and opponents too) with sticks. Try watching it on YouTube – it's crazy!! 
My usual routine of going for a run a couple of times a week has stopped because of the 2km restriction in place. Area where I live is all hills and believe me it is not enjoyable if you have to stay within this zone!!! Maybe that's just an excuse 😊 but I'm sticking to walking instead for the time being. I'm usually accompanied by Robyn and we sometimes call to my mum on the way just to check that she is ok. She is elderly and cocooning at the moment and our visit is confined to a few minutes speaking to her from outside her garden wall while she stands at the front door – very difficult times especially for the elderly. 
Remainder of my day is spent relaxing while watching something on Netflix.  
Look forward to getting back to normal again. 
Stay staff everyone 
Kathy Sharkey – Head of Business Support DUB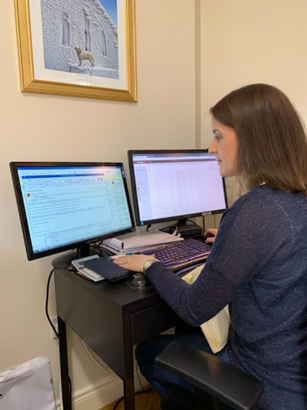 My day starts off with greeting my planning, Customer Support and Training team. What a team they are, I can honestly say, they are the strongest, hardworking and most willing people I've worked with, which makes my job a lot easier. Diversity comes to mind when I think of what I do in a day. One minute I'm working on costing models for new or current business, viewing the P&L's, reforecast and before I know it, I'm knee deep cleaning aircraft. 
No day is ever the same, the pressure mounts for sure but deep down we all love a challenge, the outcome of knowing I played a vital part in staff going home safe, renewing or gaining business, supporting to maintain training requirements, satisfactory customers and a happy work force is what makes it all worthwhile. 
A day in the life in MAN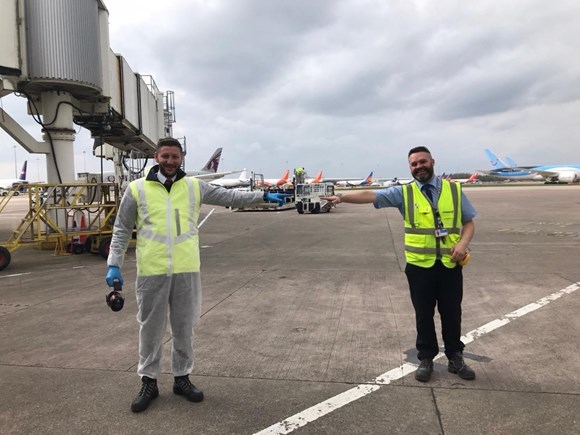 We are nearly at the end of our first full week of operation without a large team of colleagues around us.  It's been a tough first week, both mentally and physically for all of us.   The PIA startup was the highlight of our week and the much needed wide-body arrival made us feel back to normality (slightly).   We've learnt to be a very small team, very quickly and picked up the knowledge for Ramp, De-icing, MT, Pax, Dispatch and Aircraft Services to run safely and efficiently.  All departments have been based from T2 OCC 205 and those who've never worked together, now do and it's nice to see the team effort between them all to do the best for the station. 
Danny Wilson, who is leading the operation along with Hamayoun Choudry shares his personal experience since the change;   
Walking into what is normally a hive of activity its now a place I've never known be quiet and still in 20 years!  In familiar offices with no familiar faces. I'm now running an operation with a very small fraction of the staff we would normally expect, we are few but all working well together to complete our required duties whilst social distancing from people we have worked so closely with for many years.  
Covering departments and tasks we would not normally cover has been a challenge, but it has also given me some clarity in some of the challenges our colleagues would normally face, this will in the future aid in finding more efficient working practices in all aspects of the Airside Operation 
 The amount of work everyone put into the first PIA flight this week was immense.  Very last-minute changes to staff shift times and moving rest days to service the flight, the set-up of the bag hall by the ramp teams who never usually work in that area and the preparation by our passenger agents prior to check-in opening.  Georgina Proctor also worked tirelessly to keep our check-in agents safe by insisting MAG install protective screens on the check-in desks.   
To our colleagues and friends at home who are extremely excited hearing aircraft flying overhead, generating lots of conversation on social networking sites,  keeping in touch with the shared love of aviation – we miss them all terribly, we are very much looking forward to seeing our team again and our next huddle!   #OneTeam #OneSwissport #OneMANCHESTER 
DAY IN THE LIFE- SARAH HARDY HEAD OF BUSINESS SUPPORT BHX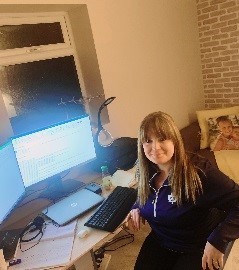 I've maintained my morning routine and continue to set my alarm, still allowing for 10 minutes of additional snooze time. Before getting up I always quickly scan through emails on my phone to see if anything needs to be actioned with immediate effect. I'll take a shower to help refresh and ready myself for the day ahead, before heading downstairs to grab myself a quick breakfast. My husband (Andy) and youngest daughter (Elin) are normally already ahead of me at this point. Fortunately, as Cheerios start heading all over the kitchen, I can take myself away to our home office. I will lock myself away and begin my daily tasks, I genuinely do lock myself away, mainly to help me concentrate, but equally to help dim out the noise of Joe Wick's workout coming from the lounge.   
As Head of Business Support my role involves a multitude of tasks, and then some. In the current climate my day's work will evolve from what was planned and expected, to what needs to happen now. We're trying to work our way through each obstacle, and in doing so, we're trying to do the best for our business and our staff. The day ahead will include, but not be limited to, liaising with colleagues on business strategies, updating operational schedules, maintaining station trackers, and studying our financial status alongside Hajnal. I love my job as I feel that I make a difference, none more so than at this current time. Today I have to collect some paperwork from the airport, and so on the way I use the opportunity to purchase some Easter Eggs for the staff that continue to keep the BHX operation running so smoothly.    
As a leadership team in Birmingham we all work closely together. The current working from home situation has really made me appreciate the personalities and consider the support that I get from the team. I'm conscious of keeping in regular welfare contact with my team but is not the same as face to face engagement.  
As my working day comes to a close, I try to clear my head of work and reset. Like so many of us I am starting to appreciate my surroundings that little bit more at this time. Tonight, as with every other evening, I have decided to take advantage of the peaceful streets in our village by taking an extended evening walk. It's the small things like this that won't last. The sky's above are so quiet, they're too quiet, I can't wait for the sky's to be full once more and our airport to be bustling with activity. I know that it won't be today, but I equally know that it will be soon, and when the time comes, we will be ready.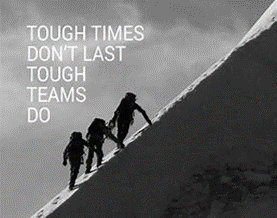 Gillian Melling, National Training Services Manager (Landside)
My name is Gillian Melling and I am one of the central training managers. Since lockdown, my daily routine has changed quite a bit. I have resurrected my Fitbit (sent it into hiding about two weeks after Christmas!!) and am following its hourly wrist vibrations ....... my day starts, like most people's I guess, with an alarm - snoozed for 10 mins at least twice (why I don't just set it later and get the extra uninterrupted sleep I do not know!). Once up, I shower and get dressed - this is the best bit .... NO MAKE UP! Well, best bit for me, not so much for hubbie and daughter who, up til now have not passed comment, but am pretty sure we're not long away from them taking sharp intakes of breath on first sight of me emerging from the bathroom!!
I read that it's a good thing to replace your daily commute with something else, so I go downstairs, put kettle on, hook my earphones to my phone, get my audio book ready (currently Dean Koontz, The Eyes of Darkness ..), make my flask of coffee, grab my vaper and head off into the garden to get some steps in for 40 mins. Being honest, I can be a bit prone to stress and mild depression, so this time is great for me - takes my mind off what's happening and helps me organise myself mentally and emotionally.
Then it's into the 'office' - I am fairly lucky as we do have a small spare room which I have a desk in and can use as an 'office' so don't have to sit on the couch, balancing a laptop on my knees! I have worked from home before this, but normally one or two days a week with the rest of the week spent visiting customers or trainers around the country, delivering training or having development meetings. 'Choosing' to work from home is very different to 'having to' work from home - there is an impact emotionally and physiologically. For me, it's really important that I get regular breaks from the 'office' - my Fitbit tells me, every hour, to basically 'GET UP' and move! So, I do - 250 steps around the garden, then back to the fray. I am trying to take calls outside as opposed to being sat in front of the laptop.
Peter and I have daily catch up sessions set up - only for about 20 mins, unless there's something specific needs to be discussed, but mainly this is just to check in with each other. We have a team 'group hug' when the whole team gets together, and we have a catch-up chat and then we have a team call on a Friday. We are in constant touch with each other either via Skype, TEAMS or WhatsApp which for me is really important. We have always been a close-knit team, as much friends as we are colleagues (possibly more so), but this has definitely strengthened our ties with each other.
Every now and again, Kev (hubbie) pops in with a top up of coffee, or a buttie - he is also working from home. Depending on what day it is, around about 1300, we swap places - I move into the living room and Kev uses the office, so he can complete his own work and the change of scenery actually has a positive impact. We have a WhatsApp group set up for work (I really don't know what I would do without my work family - we make each other laugh and support each other when we are feeling low, much like any other family) and Kev and I are members of a local community WhatsApp group to run errands etc for anyone in our village who is unable to get to the shops themselves. We are comparatively new to the village so it's quite nice having that community feel / spirit during this potentially lonely time.
Around about 1730, me, Kev and our daughter, Eve, have tea and then about 1830 we go for a walk around the village - don't think Eve has walked this much EVER!! 😊 When we get back, we settle in: Kev might light a fire; I set up TV for either Netflix or Tomb Raider (!) and we get in touch with our son, his partner, our grandson and their dog, have a chat with them, make sure they're ok - he's lucky as he works for a supermarket, so his work is steady for now, thank goodness. It'll be round about now that we might crack open a bottle of wine ........ definitely if it's a Friday or Saturday!! Friday is pub night - it's the law and tradition has to be respected!! 😊
I am trying to have a go at ZOOM and getting our family together, including my sister who lives alone - I have heard great things about it, so I will definitely be spending some time working it out! Last weekend was our first during lockdown, and it was really important to try and break the routine of the week ........ quite a challenge as there's only so much you can change when your life revolves around a very limited space! But doing an essential shop and then trying to spend as much time as possible in the garden, helped to vary the routine a little
As the weeks go on, we will get smarter and better at this 'home working' and for those of us who may be or are furloughed, getting support from each other will be essential to us getting through this whole thing in one piece ...... and we will. If there's one thing we know how to do as part of the Swissport family, it's how to pull together in a crisis and support each other when times are hard going. Stay safe and strong - we are all in this together and there for each other 😊
Tony Allman, Regional General Manager Central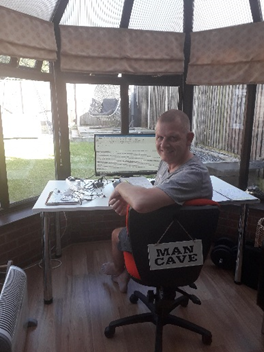 Keeping in tradition with some normality the alarm buzzers and as ever, other than my youngest, I am first up.  A little odd not to be putting the suit on and heading off somewhere, as my office whilst I self-isolate has been located to my conservatory, as you can see from the picture, I have customised it a little.  My daughter had a fever and cough, so as per instructions I dashed, in the early hours to EMA to collect a few, essentials.  Thankfully she is now doing fine.
First job is grab Max (my youngest) some milk and special K to munch on (dry!).  Kettle goes on, as well as the heater for the cooler mornings in the conservatory.
The huge difference in these times is the missing work colleague contact and visits to each station and areas of the business to interact.  It is certainly a large gap to fill.
I would then get straight into the day with an email check and strategic view of the documents for update for the day and ensuring we are as best placed as we can be as a region. 
When the rest of the house awakes, we have some office rules implemented which is important to establish ensuring I get the time to do what needs to be done.  There are of course, the official breaks for tea and small chocolate snacks.  
Interaction with my immediate team remains strong and is important to me that it does so.  I have to have a level of normality built in as this cascades to the team and enables the support mechanism to remain.  Leadership through communication is vital during these times and I am encouraging sometimes of reflection to see where our gaps are to build in resilience, these are materialising daily.  We are also taking time to ask how we really are rather than 'how are you' and enabling a much more honest response.  This contributes towards a check on our mental state.
The wider support network and also my peer group, form part of a large number of discussions in our efforts to streamline and look at relationship building for our upward curve.
As 1500 arrives or 3zzz's as known around the Central Team a review of all things from the day's calls, deciding and producing a summary for the team along with what is the next focus area. 
My family are used to me not being around in the morning and all day, so this is also strange for them too.  Seemed to have become a little competitive too (!) so a swift game of early evening scrabble and a meal together keeps us engaged.
Keep safe and look after each other
Tim Aston, QHSE Director Western Europe
Hi All,
Well we are in unprecedented challenging times, and I wanted to kick this first newsletter off with sharing with you a typi- cal day for me at this time.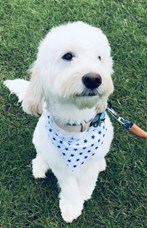 My day starts with making my bed! It's important to start and complete a simple task. I get ready, it's important not to change your routine in terms of getting ready physically and mentally to go to work. I have a healthy start breakfast to fuel myself! Since recovering from cancer nearly 5 years ago I take a multivitamin and COD liver oil supplements! Your body is like a machine and needs all the right things to make it work at 100%! Following breakfast I try to take Bertie our family Cockapoo a walk around the block, this makes me feel better, and like I am travelling to go to work also! I think he enjoys it as well!
My working day currently is made up of Skype and Teams calls, as well as telephone calls to direct and manage the ever changing Covid-19 landscape, attending Government Industry Resilience Calls, checking and reading the latest guidance, and in between the normal Swissport day to day health and safety challenges the day and the role brings! I really enjoy my job and I consider myself very lucky to have this amazing opportunity to make a difference!
It's really important for me and my team whilst we are more remote than normal, that I check in with each of them regularly, we have a group call twice a week. We like to understand what each of us is doing and also to see how we all are all doing, it's also important to see how we can help each other out. I am also lucky to lead such a great team who like me care about all of you, going home healthy and safe to your loved ones! Throughout the day it's important for me to have regular breaks from the calls and the laptop screen, just to have a short rest and collect my thoughts before I press on.
At the end of the working day we as a family have dinner together. Since the introduction
of the new rules I have had to adapt and change my routine to include home exercise, this extends to me using my local Yoga Loft for some ZOOM online Yoga with my family. Zoom is a free video conferencing app available to all, a good way to have a virtual catch up with your friends and family too! I like Yoga because I find it keeps you mobile and fit (however Tony Tully suggests I need to do more!). In addition I find the session is a great prelude to an amazing evening of relaxation and deep sleep, helping me to be refreshed for the next day.
Finally, the one thing I want to share with everyone is this, put simply we all have mental and physical health. Our health goes up and down from time to time but we need to take positive actions, train and look after it! Please take this unusual opportunity to take personal positive action, take time to look after yourselves and improve your own mental and physical fitness, be the best version of yourself you can be!
Please take care of yourself and your families!
Thanks,
Tim


Anonymous, Manchester
After over 20 years working in the same environment it seems odd to no longer have my daily routine, especially hard is the social aspect of being around the open space on the ramp and seeing recognisable faces daily. As well as the talking and speaking with people there is also the people that I never always stopped to talk to, but would give a smile and a nod as they too was a 'lifer' at the airport. It feels different from a holiday or break from work, as this isn't planned leave and you're forced into solitude which makes you feel a little in limbo of how to continue with all the uncertainty we face.
I never considered the amount of human contact on one shift; The bus driver from the car parks, the passengers who always stopped you with a question starting with 'do you work here' even though you were in airport hi-viz clothing, the security staff who would daily engage in conversation on our way through and discuss the latest gossip from the airport operator, the allocator and shift manager, the shift supervisors, the crew room staff I greeted as I filled the kettle each morning. After my morning coffee and e-mail catch up I would be out and about in a very busy operation where I would continue to engage with others; airline engineers, dispatchers, gate staff, pushback crew, ramp operatives, airfield oper- ations, staff old and new who had moved on to other companies but remained within the airport, and the weekly meetings and daily 1200 huddle. All this face to face contact was also connected by phone calls from HR, Department heads, airport community, airlines and others.
Now it feels quiet, and whilst me and my family remain thankfully healthy its time to embrace and make the best of what we face. My daily outdoor routine and communications disrupted considerably meaning a bulk of the work I did in the operation I can no longer fulfil, as well as the daily walking which gave me boots of daily exercise.
I find routine is the best way to keep motivated, with my partner still working and a little boy at home there is plenty to do, getting up and ready as though we are still going to school or work is important for motivation and purpose, although I now opt for comfy gym pants instead of school uniforms and smart wear. This then allows for weekends where we can lounge in our PJs or watch TV and distinguish the difference, which for me is important. The first few days of working from my laptop gave me time to catch up on all he jobs that were pushed to the bottom of the list, but days in and I crave the communication of my colleagues, especially as seeing family and friends is also for now forbidden. Are they ok what are they up to, are they all coping, what am I missing? So ringing around at least once a week to talk to the team I worked with is beneficial. Everyone is still enjoying the time to get some jobs done which have been pending for a while, but all have said as time goes on they will find it harder. Being part of some groups within my usual role has helped and the all but now few conference calls allows me to still feel part of the Swissport community.
There is then the guilt that I am now not out on the ramp amongst my colleagues and comrades as the last few trickles of flights continues and the company follows government guidelines of none critical workers to work from home, social distancing etc.... My job is about risk control and as I know that the risk is low, the guidelines to stay at home must be adhered to. I am ready to go in to work should that be required and that allows me a sense of supporting the structure that remains.
I have also found the following helpful to combat the lack of communication I so crave;
Set up a WhatsApp group for colleagues you would normally have seen on a daily basis, or your team. Use it to share funny messages that are doing the rounds, but also for support.
Call your colleagues once a week, they may be glad of the call.
I find an update on the business progress from my manager useful, even if there is nothing to actually be updated on.
Keeping a routine to start you day; set an alarm, do an indoor workout, and then arrange time for your once daily allowed exercise routine, in the sun when you can.
I'm still studying on the graduate programme for Swissport, this has become the main part of the daily job. There are many other free courses you can take up, NCRQ are doing a free qualification.
Cooking from scratch, order the ingredients on line and have time to make a meal with no limitations on time, getting stuck in traffic, picking kids up, incident or meetings.

The most important is remembering how much I still have to be grateful for :-)
Stay safe.
A DAY IN THE LIFE....
Gemma Hampson, Swissport Planner Manchester
My name's Gemma Hampson I currently work at MAN as a Planner for Aircraft Services and Bag-Hall.
I started at the airport in 2007 in Passenger Services and I have progressed through many roles in that time, from check-in to Communications Controller and now Planning. I have been in my current role for 9 months and have faced many challenging situations such as the Ash cloud in 2010 but this most recent Covid-19 is certainly proving to be the most complex and challenging so far.
My partner works in Passenger Services and we have 2 young boys, with both of us working full-time we sure don't make it easy for ourselves. Following the sudden outbreak of Covid-19 our worlds have had to change drastically; my children cannot attend school or play with their friends and have no routine. Whilst my partner is still going to work assisting pas- sengers, I have moved from the office to working from home and I am trying to adapt to a new temporary way of living, balancing work / life and home schooling successfully, if it wasn't for my wonderful colleagues keeping me entertained through our silly irrelevant WhatsApp chats and pictures on a daily basis I don't think I would be as sane as I am today.
I have daily constant contact and guidance from the lovely Emma Rees-Kandemir. She is a great support and answers my queries and addresses my concerns regarding planning, rosters or anything else promptly. We keep in regular con- tact via skype meetings, emails or phone calls, there have been many occasions where I have received an email and data is required in a very short deadline so I have to prioritise my tasks for the day (which often change several times), to deal with that you have to remain cool, calm and collected, working your way through as efficiently and productively as you can.
This time has been extremely trying for us all, some difficult decisions and processes have had to be put into place, these have not been easy or done without much consideration. We had to complete our S20 planning to a tight deadline be- fore the events of Covid-19, this has now had to be revised multiple times in order to keep up with the rapid changes and drastic downturn in business. Rosters are being worked on constantly as we try and keep up with these changes to our industry at this unprecedented time.
As well as planning for the current situation, we have to look to the future, completing costings for our airlines and for new business, this is a very welcome task, looking at different scenarios and how we can make things more efficient and cost effective, or rechecking standards and seeing how, moving forward, we can work to make our business prosper. I am very passionate about what I do and take pride in my work, I welcome challenges and will support and assist other departments when required. We are all one team and we are there for one another through not only difficult times but also at any other time.
"Great things in business are never done by one person, they're done by a team of people."